Universal To Rekindle Stephen King's 'Firestarter'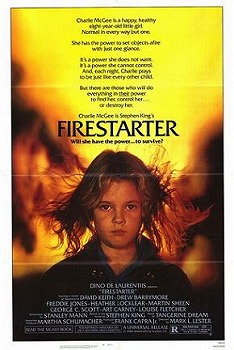 Universal Studios is looking to reboot its 1984 sci-fi thriller Firestarter and to turn the Stephen King story into a new franchise, reports Variety.  It has been almost thirty years since the release of the original film – which starred a young Drew Barrymore as a girl with the ability to start fires with her mind on the run from a mysterious government agency – but studio execs believe the story would profit from a 21st century CGI makeover.
Dino De Laurentiis Company and Universal have teamed up for another go at the movie, with Mark L. Smith (Vacancy, The Hole) on board to script.  The plot will be loosely based on the original King book and film, though the main character will be "reinvented with a little more edge."
Although the original film grossed only $17 million domestic, and a made-for-TV sequel (Firestarter 2: Rekindled) already debuted on SyFy in 2002, Universal believes the Firestarter mythology has enough going for it to be further developed – and potentially turned into a profitable franchise.  "We see this as a unique, character-driven thriller with a supernatural edge, based on a timeless concept and enchanted by recent visual effects advances," said Martha De Laurentiis, chairman of De Laurentiis Co.
If you're curious whether this "new" franchise will sink or swim, you won't have to wait long to find out: Smith has already begun working on the Firestarter script, and Universal hopes the pic will move into production by next year.
Source: Variety