'Unknown' leads President's Weekend B.O.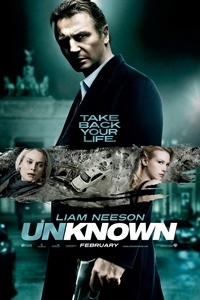 Warner Bros.' Unknown, starring Liam Neeson leads a very competitive President's weekend with a chart topping $25.6 million for 4-days and $21.8 million for three days. At nearly 60 years of age, Neeson is still one of the most believable and appealing action stars working today. Given the solid street credentials he developed from his take-no-prisoners role in 2009's Taken, Unknown benefited not only from a great marketing campaign, but from the audience goodwill generated by that unexpected hit.  Producer Joel Silver known for putting his imprint on super high profile and successful action franchises such as Die Hard, Lethal Weapon and The Matrix oversees the proceedings, while Spanish director Jaume Collet-Serra takes the helm.  Mad Men's January Jones, Diane Kruger and Aidan Quinn star alongside Neeson.
Disney was well represented in the top five, with its G-rated Gnomeo and Juliet
taking full advantage of its second weekend landing in a holiday frame.
This scenario traditionally benefits family films and the resultant
small weekend-over-weekend 24% drop helped this animated romance land in
second place for the 4-days with $24.8 million and $19.2 million for the three day portion.
Dreamworks suspense thriller I Am Number Four, distributed by Disney had a third place debut for the four-days of President's Day weekend with $22.6 million and $19.4 million for three days.  Drawing the same younger audiences that drove director D.J. Caruso's previous two thrillers, Eagle Eye and Disturbia, to solid first-place openings the film had IMAX to thank for 13% of its weekend gross.  Starring newcomer and potential teen heartthrob Alex Pettyfer and featuring Glee's Dianna Agron, the film is loaded with impressive special effects and action sequences that bear producer Michael Bay's stylistic stamp.
Just Go With It starring Adam Sandler and Jennifer Aniston had a solid second weekend earning another $18.2 million against minimal 40% drop for the three day portion and $21.7 million for 4-days.  The film has a domestic cumulative gross of $64.3 million.
Fox kept it a family affair with the release of its comedy sequel Big Mommas: Like Father, Like Son, in which Martin Lawrence reprises his role as Big Momma and introduces Brandon T. Jackson to the successful franchise as his stepson. This Momma weighed in with a 3-day debut of $16.25 million and a 4-day debut of $19 million in fifth place.
In great news for the industry, the down streak that afflicted the box office for 14 straight weeks is finally over.  The strong lineup this weekend coupled with favorable comparisons to the post-President's weekend last year (President's weekend fell a week earlier in 2010), created the magic formula to put an end to the streak. The all-time record negative streak was experienced in 2005, when 19 down weeks plagued the industry from late spring into summer.
Weekend Box Office – 4-Day President's Weekend
Top 10 Movies – For Weekend of February 18, 2011 – Estimates
 Movie           Weekend              Total
1 Unknown (PG-13) $25.6M $25.6M
2 Gnomeo & Juliet (G) $24.8M $55.8M
3 I Am Number Four (PG-13) $22.6M $22.6M
4 Just Go With It (PG-13) $21.7M $64.3M
5 Big Mommas: Like Father, Like Son (PG-13) $19.0M $19.0M
6 Justin Bieber: Never Say Never (G) $16.5M $51.4M
7 The King's Speech (R) $7.9M $104.6M
8 The Roommate (PG-13) $4.5M $$33.1M
9 The Eagle (PG-13) $4.3M $15.8M
10 No Strings Attached (R) $3.7M $66.6M