UPDATE: Bloom, Blanchett Don Elf Ears Again For 'The Hobbit'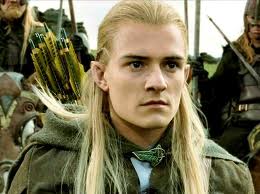 UPDATE: More casting news from Middle Earth. Orlando Bloom is about to seal a deal that will bring his heroic (and kind of babely) character Legolas back to the big screen for The Hobbit. Both Legolas and Blanchett's Galadriel weren't key players in the novel, but it makes sense that Jackson is searching for means of greater synergy between the trilogy and its prequel for those who may not have as great an affinity for the books themselves. Besides – pardon me while I don my nerd-cap for a second – Legolas' age is never revealed, but we do know that he's older than the 139 year-old dwarf, Gimli, thus his presence during the events of The Hobbit is completely plausible. Now the question is, who will be cast next?
Earlier:
It's all happening. Finally we've got some casting announcements for what is already proving to be a production nightmare – the long-awaited film adaptation of The Hobbit. Lucky for fans, it looks like the film will do its best to provide continuity with the original Lord of The Rings film. Among the announced cast is Cate Blanchett, who will be returning to reprise her role as Galadriel, the royal elf who houses Frodo and friends in The Fellowship of the Ring. It's a relief to have Blanchett back; I couldn't think of more astute casting for the elfin role and I doubt director Peter Jackson would relish the task of trying to replace her.
Deadline has the full list of relative unknowns who are also slated to join the cast but Doctor Who fans may rejoice that the series' 1989 incarnation of the doctor, Sylvester McCoy will make an appearance in the film as Radagast the Brown. (That's a hell of a lot of nerdgasm for one movie, don't you think?)