UPDATE: Dan Akyroyd NOT Rewriting 'Ghostbusters 3'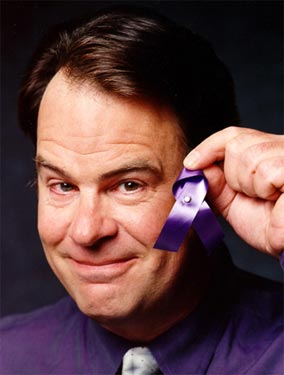 UPDATE:
Our bad. Dan Aykroyd is not rewriting Ghostbusters III. Turns out, he just really likes the project and excited to work on it. As in, act in it, not rewrite it.
FilmDrunk quotes a source "close to the project" and, although this is a friend of a friend of a friend type of situation, we'll quote him anyway.
"Aykroyd is involved enough that the studio will listen to his input, but he's not doing a rewrite of the script, which the director (Reitman) and studio (Columbia) are already happy with. Stupnitskenberg are currently the only writers on the project and as of now the studio has no plans to replace them Ramis, Reitman, and Aykroyd have all signed on, and the script is going out to Bill Murray now. Without Murray, there's no movie. (And he's always seemed pretty wishy-washy on it, but that's kind of his thing). If he agrees, pre-production will start early next year for a late spring/early summer start date and a Thanksgiving or Christmas 2012 release."
So, take that however you want. But in all honesty, it seems like no one is quite sure WTF is going on.
Source: FilmDrunk
Reported yesterday:
What works on TV doesn't always work on the big screen. We've learned and re-learned that lesson many times over the past few years as The A-Team and a handful of other film adaptations of classic television shows failed to impress moviegoers. No one knows this truth better than Gene Stupnitsky and Lee Eisenberg, executive producers and lead writers of the American Office and shameful screenwriters of last years bomb Year One. Their brand of comedy didn't lend itself well to cinema. Or history. Still, the pair was given the go ahead from Columbia Pictures last year to pen the highly anticipated Ghostbusters III, but now it seems that the studio wants them out and is recruiting Dr. Raymond Stantz himself to make it right.
The Playlist (via Cinematical) reports that Dan Aykroyd, who co-wrote the original films with Harold Ramis (who directed the atrocity that was Year One), has been tapped to rework the screenplay for the threequel, which still has no start/release date or cast. The source printed a few quotes from Aykroyd, who confirmed his and Ramis' involvement, defended Stupnitsky and Eisenberg and talked a bit about his character in the new project:
"I can tell you firsthand, I'm working on the script now and those two – Stupnitsky and Eisenberg – wrote Bill the comic role of a lifetime, and the new Ghostbusters and the old are all well represented in it…we have a strong first draft that Harold and I will take back, and I'm very excited about working on it. Now [in Ghostbusters 3] my character's eyesight is shot, I got a bad knee, a bad hip—I can't drive that caddy anymore or lift that Psychotron Accelerator anymore, it's too heavy. We need young legs, new minds—new Ghostbusters; so I'm in essence passing the torch to the new regime, and you know what? That's totally okay with me."
So what does this mean for the film? It means that the brilliant writers who created the paranormal investigators we know and love are back to reshape the script. We should all be thrilled about this, since the quality of the Ghostbusters films always came from their witty and sarcastic tone. Does this mean that the movie is any closer to being made? Not at all. A new re-write entails another review by the studio before budgeted, scheduling and pre-production commences, so Ghostbusters 3 isn't any closer to being made than it was before this report, but at least we know that the project is getting the full support of the men who made it a reality.
Source: The Playlist (via Cinematical)