UPDATE: Even More 'Scream 4' Casting Details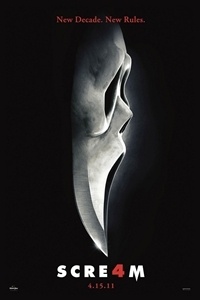 UPDATE: I just can't catch a break.  Every time I finish writing something about the damn Scream 4 casting, Dimension Films goes and announces another addition to the already huge ensemble cast.  Today's news: the delightful Alison Brie (of Community) and Mary McDonnell (the President on Battlestar Galactica) have signed on to the slasher horror.  Brie will play Neve Campbell's ambitious personal assistant, who is envious of her boss's success.  Mary McDonnell's role is still unknown, although it is possible she will be replacing Lauren Graham, whose publicist just confirmed the rumors that she has dropped out due to a scheduling conflict, most likely with the NBC series Parenthood.
Original Story: News continues to come off the set of Scream 4, which reunites horror director Wes Craven with Kevin Williamson, who wrote the original script for Scream (1996) and Scream 2 (1997).  Last week we reported that Lake Bell, who had been cast as Deputy Judy Hicks, was leaving the project due to a scheduling conflict; it has been rumored (but not confirmed) that Lauren Graham will also have to be replaced.  While we suggested Jennifer Connelly play the character, described as a "sexy but a bit off" high school friend of Sidney's (Neve Campbell), we learned today that the part has gone to Marley Shelton, who recently acted opposite Josh Brolin in Planet Terror.  
Joining Shelton is Adam Brody of O.C. fame and Erik Knudsen (Youth in Revolt, Scott Pilgrim vs. the World), who will fill two previously unrevealed roles.  Brody will play a cop and recent college graduate whose training appears to be unduly influenced by the CSI: Crime Scene Investigation school of forensic science.  Knudsen's role is that of the wisecracking movie buff, modeled after Jamie Kennedy's character 'Randy' in the first three Scream movies, whose knowledge of horror conventions and cliches is one source of the series' unique brand of meta-comic relief (I imagine the movie-within-a-movie slasher series 'Stab' will make a reappearance as well).
On a side note: whoever at Dimension Films had the bright idea to release this casting information so gradually, kudos to you for tricking people like me into building hype for your movie.  It's working!  With news trickling off the set at a deviously calculated rate, anticipation has never been higher for the fourth Scream, which sees the old guard (Campbell, Kennedy, Courteney Cox, David Arquette) making way for a new generation of slasher victims some ten years after Scream 3.  While many of the original cast members will reprise their roles, they will be joined by a host of fresh faces, including Emma Roberts as Jill Kesler, Sidney's cousin and one of the film's heroines; Hayden Panettiere as Jill's best friend Kirby Reed, a cute film geek; Rory Culkin as Charlie Walker, Jill's maybe love interest; and Nico Tortorella as Trevor Sheldon, a handsome high school jock with a secret. 
Who's wearing the 'ghostface' mask this time around?  Probably not Adam Brody or Hayden Panettiere, but we'll have to wait until April 15th to find out for sure.
Source: Heatvision, /Film