UPDATE: 'Frankenstein' Movies Being Developed By Everyone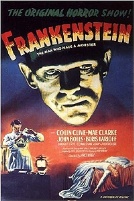 UPDATE: Not even a day after this original story broke, Summit Entertainment has hired Let Me In director Matt Reeves to helm its adaptation of This Dark Endeavor. Deadline reports that Jacob Aaron Estes will pen the screenplay for the picture.
EARLIER: Apparently everyone capable of making movies is sick of zombies and vampires and all the rest of that stupid crap, so that fad is being tossed aside in favor of something original: Frankenstein, but there's one problem. Everyone capable of making movies is also making their own Frankenstein. According to Deadline, there are now six different studios producing some type of Frankenstein film. The reason? Well, Frankenstein is a classic novel that's considered "public domain," so anybody can pretty much create their own monster (sorry), but in the end probably only one or two of these films will actually be made.
Anyway, the most recent film is an adaptation of Peter Ackroyd's novel The Casebook of Victor Frankenstein, which will be adapted by the talented Pulitzer Prize-winning playwright David Auburn (Proof). Sam Raimi and Rob Tapert's Ghost House Pictures will produce alongside RT Features. The story will focus on the "youthful days of Frankenstein," you know, the days when a young, darling Frankenstein ran through open fields of wildflowers, lilies and innocence, or something.
Universal is currently teaming with Guillermo del Toro and Scott Stuber for an update on the 1931 film; Summit Entertainment — with Twilight Saga producer Karen Rosenfelt — is developing an adaptation of Kenneth Oppel's novel This Dark Endeavor: The Apprenticeship of Victor Frankenstin; Columbia Pictures and producer Matt Tomach just acquired a script that retells the Frankenstein story pitched by Craig Fernandez; also, Fox 2000 is remaking The Rocky Horror Picture Show with Glee's Ryan Murphy; and finally, Guns N Roses guitar player Slash has teamed his Slasher Films with Scout Productions to do Wake the Dead, a Frankenstein tale based on the graphic novel by Steve Niles with Jay Russell attached to star — because at this point, why the hell wouldn't Slash be making a Frankenstein film?
Source: Deadline