UPDATE: Nicholas Sparks Sold Another Book to Hollywood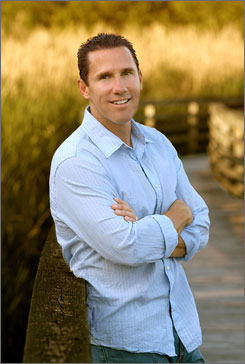 UPDATE:  Yes, we knew it would happen, but the numbers are pretty astounding nonetheless.  Deadline obtusely reports that the deal is "in the vicinity of $2 million against $5 million," which, while I don't know exactly what that means, certainly sounds like a hell of a lot of money for an untested, unpublished book with no fan base.  Relativity Media is the studio lucky enough to pick up Safe Haven's rights, which comes with the wonderful contractual caveat that if they don't produce a script in 9 months, the book's rights return to Sparks, who will pocket a cool $2 million for such a terrible inconvenience.
Original Story: There's a war going on right this moment in Hollywood, just not the kind you might think: this afternoon, Nicholas Sparks' opened the bidding on the movie rights to his latest novel, Safe Haven.
Around noon, Sparks and his representatives released a list of terms for 'Haven,' inviting the industry to begin competing for the privilege of developing his most recent property, described as "his first real foray into thriller territory."
But the successful author of the novels-turned-movies A Walk to Remember, The Notebook, and Dear John hasn't given up on romance – Sparks has already given 'Haven' a pithy tagline: "In the darkest hour, love is the only true safe haven."
Sparks is peddling the novel all over town, and is likely already in talks with Disney, Fox, Sony, Warner Bros., and others.
While Sparks' books don't always gross as much as The Notebook ($116 million), they remain of perennial interest to the studios, who appreciate their sound financial formula of moderate box office success paired with small budgets.  That model tends to work for Sparks' properties, with Dear John grossing $80 million on a $25 million budget, and The Last Song taking $63 million while costing just $20 million.  Sparks' The Lucky One is already in development at Warner Bros. with Zac Efron likely to star.
Nicholas Sparks is basically printing money at this point.  As much as "in the darkest hour, love is the only true safe haven" makes me want to roll my eyes and groan, I don't think there's any doubt that one of the studios is going to buy 'Haven' for an exorbitant sum and attach whichever actors are the Amanda Seyfried and Channing Tatum of 2013.  Maybe Ryan Gosling and Rachel McAdams will be in vogue again.
Source: Risky Business