UPDATE: Universal Says Kristen Stewart Not Fired from 'Snow White' — REPORT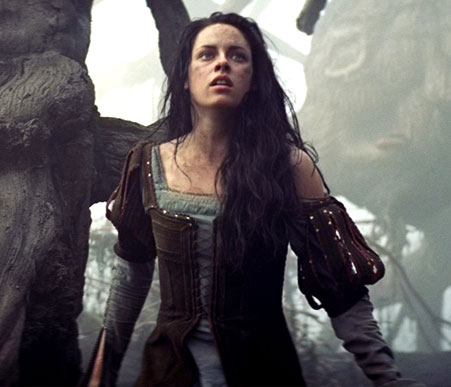 UPDATE: An official statement from Universal Co-Chairman Donna Langley denies any rumors that Stewart has been dropped from the sequel, explaining: "We are extremely proud of Snow White And The Huntsman and we're currently exploring all options to continue the franchise. Any reports that Kristen Stewart has been dropped are false."
PREVIOUSLY: The folks over at The Hollywood Reporter are reporting that the rumors of the past few months are true: a Snow White and the Huntsman sequel is in the works, but perhaps not with the main star (Kristen Stewart) on board. We reported on this news earlier in the year, but THR believes that the executives in charge are ready to act.
According to THR, it seems that Universal's alleged plan is to shelf the Snow White sequel and instead focus on a movie about Chris Hemsworth's Huntsman character instead. If the plan moves forward, Stewart will allegedly not be invited to return. But, a conflicting report by the Los Angeles Times says that Stewart's character could still be incorporated in the movie.
And THR also says that Stewart isn't the only one being released from the project, though. David Koepp, the confirmed screenwriter for the sequel, is also reportedly leaving the film, as its current iteration is something other than what he was hired to write. It is expected, however, that director-slash-Stewart-romancer Rupert Sanders is still set to direct.
While the timing is somewhat suspect, it is said that the recent hullabaloo surrounding the affair between Stewart and Sanders that broke up Stewart's relationship with longtime boyfriend Robert Pattinson, had no effect on the decision. Though the current vitriol surrounding Stewart thanks to protective Twilight fans probably doesn't help matters, either. A public reunion between the director and actor will have to be put on ice for now.
According to THR, a Universal rep is quoted as saying only that "the studio is currently exploring options to continue the franchise." Hollywood.com has reached out for comment, but did not hear back at the time of publication.
[Photo Credit: Universal Pictures]
Follow Alicia on Twitter @alicialutes
More:
'Snow White' Sequel Focuses on Huntsman…Not Kristen Stewart?
Robert Pattinson Packs His Bags