UPDATE: Vincent Curatola Joins 'Cogan's Trade'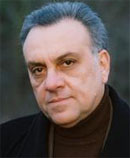 UPDATE: The Hollywood Reporter also confirms that Goodfellas star Ray Liotta has also signed up for the ensemble picture, making Cogan's Trade a virtual who's who of gangster shit.
EARLIER: Johnny Sack's life didn't turn out too grand by the time The Sopranos ended its legendary run, but for Vincent Curatola, who played the New York crime boss on the multiple-award-winning drama, the fun is just starting. The actor just signed on to co-star in Andrew Dominik's new film Cogan's Trade, opposite Brad Pitt and a great ensemble cast, as a middle-aged man recently released from jail who seeks revenge on those who sent him to prison.
The project, which is based on George V. Higgins' 1974 novel, follows a mob enforcer (Pitt) investigating a heist that went down during a mob-protected poker game in the seedy side of Boston. Javier Bardem, Casey Affleck, Sam Rockwell, Mark Ruffalo, Richard Jenkins and Bella Heathcoate are all locked into parts, but the most exciting prospect about Curatola's addition is an on-screen reunion with his Sopranos co-star James Gandolfini, who will also occupy a (rather large) space in the film.
Production is set to begin by the end of the month while the film may see an early 2012 release from The Weinstein Company.
Source: THR