Vampires & Fighter Pilots Lead the Weekend!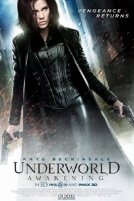 One of the most beautiful women on the planet, Kate Beckinsale reprises her role as vampire warrior Selene in the fourth installment of the popular and profitable "Underworld" franchise. Sony's Screen Gems "Underworld: Awakening" took in a solid 3-D and IMAX enhanced bite out of the box office with a gross of $25.4 million. IMAX had their best ever digital debut with $3.8 million or 15% of the gross. The film had a terrific start in the international marketplace, grossing an estimated $13.4 m on 2,344 screens in 36 markets. Worldwide, the film earned $38.8 million in the territories where the film debuted.
Fox's World War II drama "Red Tails" tells the true story of African American pilots in the Tuskegee training program and their important and groundbreaking contribution to the war effort. George Lucas executive produced the action-packed period piece starring Cuba Gooding Jr., Terence Howard and Bryan Cranston. The audience was 51% male and 49% female and the film received a rare CinemaScore of A. The film flew into theaters on Friday earning $6.025 million and saw an impressive Saturday uptick to $8.65 million (up 44%!) and will fly out by Sunday night with a much better-than-expected $19.1 million.
Mark Wahlberg led the box office last weekend as Universal's "Contraband" opened with a bigger-than-expected $24.3 million debut. The R-rated action drama also stars Giovanni Ribisi, the ever-present Kate Beckinsale wound up with $12.2 million in its second go around. The first quarter hit has smuggled nearly $50 million in total North American revenues since its release.
The 9/11 drama "Extremely Loud and Incredibly Close" from Warner Bros. had its first nationwide release this weekend as it expands from 6 to 2,630 theaters. The films stars Tom Hanks, Sandra Bullock and newcomer and kids "Jeopardy!" champion Thomas Horn as a young boy traumatized by the loss of his father in the World Trade Center attacks. A $10.5 million wide release debut was the result for this moving and thoughtful tale of the aftereffects of this tragic and historic event. The film has earned $11.2 million to date.
Relativity Media's R-rated stylish action thriller "Haywire" punched its way into theaters with an amazing and literally butt-kicking performance from Gina Carano, a former mixed martial arts fighter who was discovered by director Steven Soderbergh. Carano, who performs her own fight stunts, is part of an impressive cast including Michael Fassbender, Ewan McGregor, Michael Douglas and Antonio Banderas. A debut of $9 million put the film in the thick of the Top 5 box office brawl this weekend.
Year-to-date numbers are impressive as Hollywood continues its winning ways at the box office as revenues and attendance are running about 15% ahead of last year. This weekend was up almost 32% vs. the same weekend a year ago when "No Strings Attached" topped the box office with $19.6 million.
Weekend Box Office (Estimates)
Top Movies for Weekend of January 20, 2011
Movie Weekend Gross Total to Date
1 Underworld: Awakening (R) $25.4M $25.4M
2 Red Tails (PG13) $19.1M $19.1M
3 Contraband (R) $12.2M $46.1M
4 Extremely Loud and Incredibly Close (PG13) $10.5M $11.2M
5 Haywire (R) $9.0M $9.0M