'Veronica Mars' Movie Details: Veronica and Logan's Romantic Fate Revealed (Sort Of)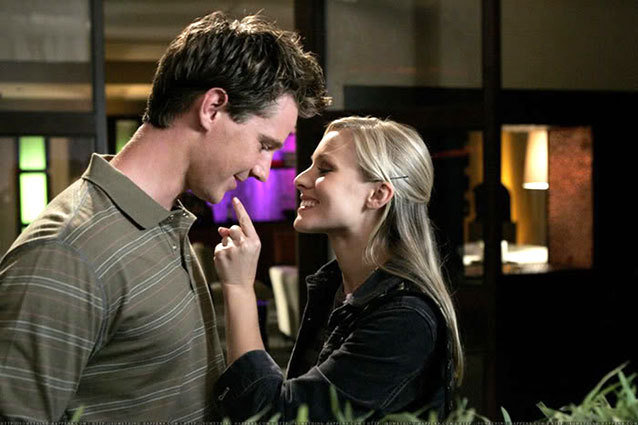 One very important question heading into the Veronica Mars movie is that of Veronica's (Kristen Bell) relationship with Logan. In an interview with TVLine, creator Rob Thomas dropped a truth bomb about where we'll find Bell's pixie heroine and her troubled on-again/off-again boyfriend when the Neptune High gang (including the '09ers, I guess) gets back together for their 10-year high school reunion. So are Logan and Veronica k-i-s-s-i-n-g? 
RELATED: Why The Return of Veronica Mars Matters
Not if her boyfriend has anything to do with it. According to Thomas, Veronica will be "dating someone" who is not Logan, whom she hasn't seen in nine years. The other issues is that no one besides Bell has signed on for the film yet, but come on, Jason Dohring, what else are you doing? Give us some closure. Break up Veronica and whoever her new grownup boyfriend is — you're good at that, remember?
And while we're on that topic, Veronica has reportedly changed her career course away from crime investigation and towards lawyering. At the time of the movie's big reunion, she will be gearing up to take the Bar exam. But let's be real here. She can't return to Neptune without some grand mystery coaxing her back into the life of a P.I. And as we learned earlier, that mystery could include her former lover, Mr. Logan Echols. 
RELATED: Veronica Mars Backlash, What Gives?
Perhaps that factor will be her father, who Thomas says will be a big part of the movie. Enrico Colantoni's Keith Mars will not be relegated to a quick visitor in Veronica's new life. He'll be just as important to who she is now as he was when she was a teenager, which is important — while Veronica's love life was always intriguing, her relationship with her father was the true heart of the series. 
Also imporant for fans to go ahead and make peace with now: The movie isn't going to drudge up everything from the Mars canon. Her trusty dog Backup will not be around, because as Thomas points out a dog that size doesn't usually live more than seven or eight years and it's been nine since we've seen Veronica when the film begins. Veronica will not be haunted by Lily Kane, which is not because Amanda Seyfried was too busy, but rather that it doesn't make sense for the new landscape of Veronica's life. 
RELATED: Details About the 'Veronica Mars' Movie
And finally, you can stop your worrying now. The movie is not going to kill off Veronica. If anything, Thomas hopes it can usher in a new era of Veronica Mars. (Yes, please? Pay attention, non-believers, and get ready to fall in love like the rest of us.) "I am hopeful it is the birth of [much more] Veronica Mars," says Thomas in the interview.
More Veronica? Something tells me the folks who laid down a collective $4 million dollars will be happy to hear about that slim possibility.
Follow Kelsea on Twitter @KelseaStahler
[Photo Credit: WB]
---
You Might Also Like:


15 Oscar-Winning Nude Scenes


Young Jack Black Is Totally Unrecognizable