'Veronica Mars' Movie: Why the Character's Return Is a Big Deal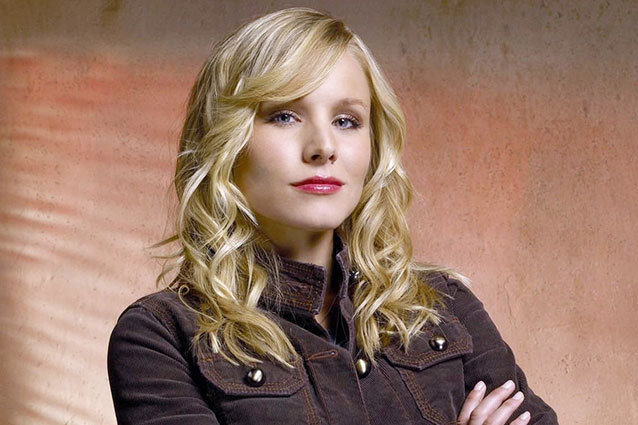 "Who is this Veronica Mars chick and why is she all over Twitter?"
It's a question that must have struck many Internet-savvy folks after Wednesday's Kickstarter project to raise money for the former UPN/CW crime drama's followup film took over social media. But Rob Thomas' Veronica Mars isn't just "some chick" all over Twitter, the teen series is an important piece of television history, and one whose light was snuffed out far too soon after being cherished by too few TV fans back in 2007. To put it simply, Veronica Mars is wildly significant, whether or not you were lucky enough to experience its magnificence. 
RELATED: 'Veronica Mars' Movie Already Getting Backlash
I get it. Not everyone was glued to UPN on Wednesday nights, clamoring to see what bad assery Veronica (the impossibly loveable Kristen Bell) would pull this week to solve the next piece of a season-long mystery. If they were, we'd probably still be following Mars through her post-collegiate sleuthing adventures. The San Diego-based teen sleuth wasn't your cheesy caricature of a young detective, like some schlocky version of Harriet the Spy hits puberty. She was a complex, dark character who towed the line between the dark recesses of gang life and petty crime worlds and the equally dark realm of high school, and one who did so with all the pithy charm of Lauren Graham's Loreli Gilmore. In a landscape of teen dramas where the biggest problems were parents' rules and moody boyfriends, Veronica Mars gave us a series about high school that didn't talk down to us, that trusted its young audience with a truer, gritty depiction of the hell that is teen life. 
Veronica Mars: Feminist Hero?
It wasn't just the realm of high school drama on television that got a boost from Veronica Mars. The realm of pop culture heroines got a bit of a payout from her entry into the television lexicon too. True, Veronica had her share of boyfriends – including rich boy with a heart of gold Duncan Kane (Teddy Dunn), rich boy with a penchant for bad behavior Logan Echolls (Jason Dohring), and for a short time the persistent young cop Leo D'Amato (Max Greenfield) — but even when that romantic drama was drawing us in (and leaving us gasping in terror when the final episode ever left the Veronica-Logan question unresolved), Mars' true draw was her wit, wisdom, fearlessness, and intelligience. Veronica really could do anything, and not because of some super power or element of uncanny access (if anything she had a lack of access as she and her private eye father lived in a cheesy San Diego apartment building on the wrong side of the tracks), but because of her lightning-fast brain and street smarts. 
RELATED: Why Isn't There a Female James Bond? 
Veronica is a character who solves the age-old problem of a strong lady sleuth overwhelmed by elements that undermine her abilities in many of the same ways Buffy Summers' vampire aggression did for teens in the horror genre. Even Alias' Sydney Bristow (Jennifer Garner) occasionally fell prey to the sexy femme fatale element of sleuthing that Bell's character manages to sidestep. Yes, Veronica was a sexually active character, but she is truthful to the truth of the teenage experience without wearing her sexuality on her sleeve. Her clothing of choice was a light jacket over a t-shirt and jeans, leather boots and her ever-present messenger bag. Even while her high school cohorts were tempting boys with short skirts and low-cut tops, Veronica was all business. At the end of the day, she was more concerned with helping her school mates and finding the truth than wearing the right clothes to attract some drooling dolt (one of whom was played to perfection on the series by the ever-present Ryan Hanson). 
It's an element that allowed Veronica, who was very much a high school student, to feel relevant to more than just teen audiences. The gritty reality of Veronica's character was something that could appeal to viewers from every demographic, even if the cheesy promos didn't do their best to draw those folks in. 
Is that Veronica, or Phillip Marlowe?
One thing that drives careful TV viewers crazy is a mystery for the sake of a mystery. With the sheer number of crime shows on television, it's impossible not to be a whiz at solving a CSI or Law & Order mystery halfway through the episode (or if you're really good, five minutes into each episode). The beauty of the season-long and one-off mysteries on Veronica Mars is that they truly were mysteries and oddities. The answers were never predictable, but without the big reveal dropping in like the world's most obnoxious red herring. Mysteries on Veronica Mars didn't carry the schlocky feel that the word itself seems to contain; they felt real and immediate and most importantly, there was never a moment in which Veronica's journey ever felt safe. At any moment, our spunky blonde pixie could find herself in a world of hurt at the hands of Irish gangsters, weathly crooks, or even serial campus rapists. Veronica's uncovering of the truth never stopped short of the uncomfortable reality of her education-adjacent profession, the series consistently presented a more truthful reality for Veronica's chosen life.
Critics and even horror writer Stephen King compared the critically acclaimed series to beloved mystery writer Raymond Chandler and Thomas' teen sleuth to Chandler's hero Phillip Marlowe (famously portrayed by Humphrey Bogart in The Big Sleep). For any work of fiction aimed at mystery-solving, this is just about the highest compliment anyone could pay. 
Sure, it could be argued that a hell of a lot trouble came upon this teenager, but much like Walter White asks for every bit of drug world drama he finds himself in, Veronica relentlessly goes looking for deeper, darker, and more dangerous mysteries. Also, her father is a P.I., so it's kind of her God-given mode of operation. 
Most Importantly: It's Fun
Ideas of feminist progression and the high-minded praise of the series' eye for mystery aside, Veronica Mars is simply the best kind of entertainment: the fun kind. It combined the entertaining class-warfare of Fox's The O.C. with Chandler-level mystery and quippy dialogue that would make Amy Sherman-Pallidino (Gilmore Girls, Bunheads) proud. The audience draws were stacked, so much so that I still can't understand why more viewers weren't tuning into the impeccably-written drama. 
Veronica's cohorts including her father (Enrico Colantoni), her best friends (Percy Daggs III and Tina Majorino), her nemeses (Ken Marino, Steve Gutenberg – yes, really – and Michael Muhney), and even guest stars (including Greenfield, Jessica Chastain, Amanda Seyfried, Krysten Ritter, and Dianna Agron, to name a few) were all fantastically complex characters too with their own mysterious backstories and skeletons in their respective closets. And some of them, namely Daggs, Marino, and Greenfield, were almost as hilariously witty as Veronica herself. 
RELATED: How to Make the 'Veronica Mars' Movie Happen
Naturally, when this fantastic, teenage-experience-defining series ended abruptly with a cliffhanger and no hope of future resolution aside from a disappointing faux-trailer on the final season's DVD that teased Veronica heading off to join the FBI, fans were left writhing in withdrawal. If you can't understand the fervor from a place of experience, we understand, many a Veronica Mars fan was lonely in their praise of the short-lived series. But hopefully, with a little context, the outpouring of joy all over the Internet after the Veronica Mars movie met its $1 million goal in just a day finally makes sense. And if we (and Warner Bros.) are lucky, it just might give you the push to accept Veronica Mars, the incomperable spitfire, into your life too. 
Of course, if all this pontificating isn't enough to convince you, you could always enjoy this compilation of great Veronica moments, complete with the full Dandy Warhols-provided theme song and everything:
Follow Kelsea on Twitter @KelseaStahler
[Photo Credit: The CW] 
---
You Might Also Like:


Topanga's Revealing Lingerie Shoot: Hello '90s!


Stars Who Have Lost Roles For Being Too Hot (Celebuzz)