The New 'Veronica Mars' Teaser Trailer Is a Full Dose of Nostalgia
It's finally time to see how far the Internet's dollar goes. Veronica Mars was a superb teen mystery comedy drama (if that genre conflation makes any sense) that centered around high school gumshoe Veronica Mars (Kristen Bell), the daughter of a private investigator who solved mysteries centered around her hometown of Neptune, California. The series was two parts Nancy Drew, one part Buffy the Vampire Slayer, with a dash of Twin Peaks and Raymond Chandler  for flavor. Veronica's story ended well before it's time, but the show was revived by a now infamous Kickstarter campaign that proved that the crowd-funding website could fund a feature film with fan's dollars. And whether or not that's entirely ethical way to fund a movie is a question we'll be pondering for years to come.
But now we're getting an extended preview at what at all those donations look like on film, and it seems like we're in for a familiar stroll though Neptune, but one that shows the characters a little older, but not necessarily a little wiser. It's been 10 years since the last episode of the series and Veronica is living in New York with her good guy boyfriend Piz (Chris Lowell). But, as Veronica finds, one never leaves a place like Neptune behind for good. Veronica is swiftly called back to town when her old boyfriend, and the show's resident bad boy Logan (Jason Dohring) is charged with murder. The teaser hints at the love triangle brewing between the three friends, and has the cast place their votes on who should win Veronica's heart: Piz or Logan?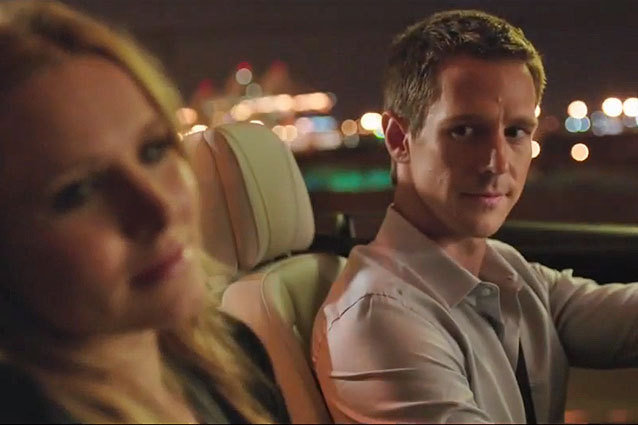 MOVIES Coming Soon/YouTube
The cast still feels like the same people we loved from the show, albeit older, but they still haven't quite moved on from their complicated relationships from high school. Even Veronica is seen falling into her old teenaged traps, especially when Logan, as slick and dangerous as ever, comes to her door fully draped in the promise of adventure. It's fun to see the cast come together to relive the show that they clearly had a blast filming, but it's really special to see creator Rob Thomas revisit his beloved characters for one last romp through Neptune's many mysteries.