Should 'Veronica Mars' Please the Fans or Go for Wider Appeal?
There's no place like home. And that's what the new trailer for Veronica Mars feels like: a long-deserved trip back home into the world of our favorite teenage private eye. It's remarkable how much this newest trailer taps all the same notes that made the show resonate so loudly with fans back in its heyday, even after being 10 years removed.
For the uninitiated, Veronica Mars was an acclaimed comedy-drama that followed Veronica (Kristen Bell), a teenage gumshoe that solved mysteries surrounding her high school and college. The Veronica Mars film picks up with an older Veronica who's bordering on 30 and living the life of a successful lawyer in New York City… but you never leave home, not for good. And just when she thought she had put Neptune, California in her rear view forever, all that high school drama comes hurtling back into her life when her old flame, Logan Echolls (Jason Dohring), is charged with murder, and Veronica can't help but dig into the mystery and uncover whatever truths lay buried there.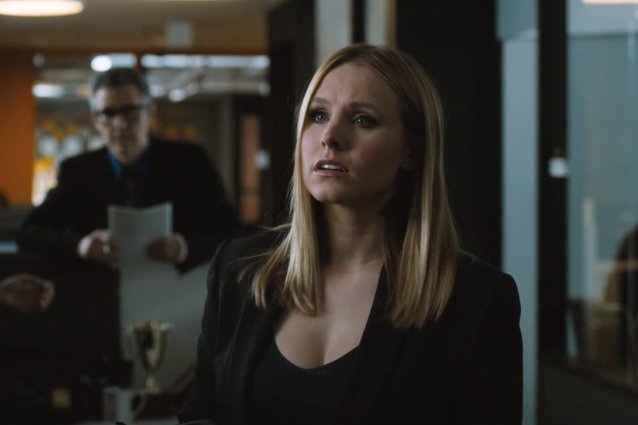 Veronica Mars (2014)/YouTube
Logan still has his trademark smolder and bad boy allure, and the rest of the supporting cast is still as loveable (or hateable, depending on who you're talking about) as ever, but what will this movie offer people who didn't experience Veronica Mars the first time around? While the new trailer is a welcome burst of nostalgia to all the fans pining for more Veronica, it doesn't seem like the film will appeal to someone who has never seen the show before. Thus leads us to the question: is it better to create something just for fans, or something that new people can jump onto without prior experience with the series (perhaps at the expense of a few in-jokes)? How have other television shows handled the transition from television to film? 
Firefly
Film: Serenity
After a truncated first season, Joss Whedon's brilliant space-opera Firefly, was blasted from the airwaves, but loyal fans and the strength of its DVD sales brought back the series for one last film Serenity, which walked a fine line by being a show that both long-time browncoats and new fans alike could enjoy. Serenity was a critical success but an acute box-office failure, and even though the film didn't take home the cash, it did give Firefly more exposure to the mainstream. While debate rages on between die-hard fans, many believe it to be a fitting end to a series gone too soon.
Star Trek
Films: Various
The Star Trek films have always been a mixed bag with definite highlights and lowlight popping up throughout the franchise's long cinematic history. One thing that's for certain is that the Star Trek films up until 2009's sorta-reboot were made primarily with Star Trek fans in mind. This all changed when J.J. Abrams took over, driving the series into a faster and flashier version of the universe. This served to satisfy a wider audience, but left the dyed in the wool Star Trek fans feeling that their favorite franchise had slipped away from them.
Doctor Who

Film: Doctor Who (1997)
After the long running BBC science fiction serial spent several years on hiatus , the show was revived with a television movie made with American audiences in mind, but in the process, the show lost a lot of the magic that made it so special and British in the first place. To add insult to injury, Americans didn't care much for the new Doctor and his adventures anyway. Fastforward 17 years later, Doctor Who has become a worldwide phenomenon with its 50th anniversary special being simulcast in 94 countries around the globe. This goes as a lesson to the BBC. If you just focus on making quality British television, and the Americans will come to you. Just sit back and let globalization do the work for you.
Twin Peaks
Film: Twin Peaks: Fire Walk With Me
David Lynch's Twin Peaks is often met with head scratches galore, but those that could vibe with the show's eccentricities were greeted with one of television's landmark achievments. But the series' prequel film Twin Peaks: Fire Walk With Me, which opened the story up a bit but still managed to keep everyone feeling out of the loop, also left many die-hard fans scratching their heads in bewilderment, even after an already subpar second season.
Da Ali G Show
Films: Ali G Indahouse, Borat, Bruno
The original Da Ali G Show and its movie follow up Ali G Indahouse didn't make much of a splash in the states, but when Sacha Baron Cohen took his character Borat and turned his documentary-like form of satire towards American audiences with his next film Borat:Cultural Learnings of America for Make Benefit Glorious Nation of Kazakhstan, the actor and his stable of characters exploded in popularity. This gave way to another, far more successful film based on Da Ali G show, Borat. Borat requires even less familiarity with the original show that Insahouse, cementing it as a huge, lastingly popular hit.