Ang Lee & 'Life of Pi' Editor on VFX Protests: 'There's Something Fundamentally Wrong' with the Industry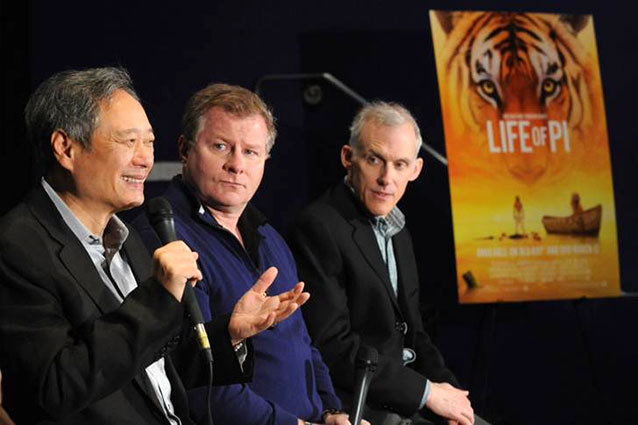 Even in the wake of Life of Pi's four Oscar wins — including Best Director for Ang Lee — and its resultant spiked attraction to moviegoers, any conversation about the fantastical picture is likely to steer toward the buzzing video effects protests ensnaring the film industry. "It's a very tough business," Lee said of the VFX industry on Monday, during a presentation highlighting the special features and deleted scenes of the Life of Pi Blu-ray, which releases on Mar. 12. "Because it's so expensive."
With the VFX company Rhythm and Hues (which worked on Life of Pi) declaring bankruptcy and dismissing over 250 employees without severence, discussions have emerged about the complicated relationship between the effects industry and their studio employers — an issue that Lee and his frequent collaborator, editor Tim Squyres, acknolwedged at the presentation.
RELATED: 'Argo' Vs. 'Life of Pi': Best Picture by the Numbers
"This is a business that is very hard to make money," Lee said. "In post-production … everyone is getting down on them." The director added, "The research and development fee is so high. You don't see many survive. It's a very tough business."
"I'm not a business person," Squyres said, "but if a company like Rhythm and Hues, who can do work like [we see in Life of Pi], can't make their cash flow situation work, there's something really wrong with the business plan. I don't mean Rhythm and Hues' business plan, I mean the whole industry. The way that the studios interact with visual effects."
Forces like compositor Phillip Broste have pointed blame pointed blame toward spotlit figures like Lee for devaluing the work of the men and women in the community, with Broste specifically highlighting Lee's admission that he wished VFX was "cheaper" in an open letter posted to Facebook on Feb. 25.
RELATED: See How the VFX Team Pulled Off 'The Avengers' Money Shot
Still, Lee expressed an appreciation for the work of the VFX community, calling the lot "artists" who are often charged with projects beneath their potential. "Normally, they don't get to do art. I think they're artists, but they do blow ups and action movies, basically. And I want to do visual art with them instead of visual effects. So they're very happy about that, and go way out to make things happen." Lee continued: "I only did this twice — Hulk and [Life Of Pi]. Both [times], I wanted to do artistic work with them. And they [were willing] to drop everything to work on this kind of thing."
But are this veneration of the community's work ethic, and impressive, award-winning projects like Life of Pi — which Squyres credits as "help[ing] to show that audiences really appreciate when that is done well" — enough to bring the video effects industry out of turmoil?
"I don't have a solution to propose, but it's very tough for any visual effects company," Squyres said. "I think there's something fundamentally wrong with how interactions work between the studios and the visual effects companies. And I hope they get it fixed, because we really need these guys. The amount of work and love they put into this was astounding. I hope the business can sort itself out in such a way that we can keep doing this kind of work."
Follow Michael Arbeiter on Twitter @MichaelArbeiter.
[Photo Credit: Diane Bondareff/Invision for Fox Home Entertainment]
---
From Our Partners:


40 Most Revealing See-Through Red Carpet Looks (Vh1)


15 Stars Share Secrets of their Sex Lives (Celebuzz)