Video Interviews: The Cast and Crew of Silent Oscar Contender 'The Artist'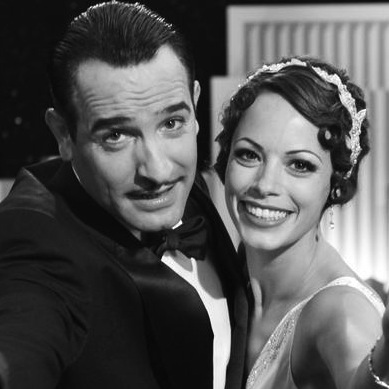 It's been nearly eighty years since anyone tried to pull off what director Michel Hazanavicius and leading man Jean Dujardin do in their new film, The Artist. Why? Well back in the early part of the 20th century, filmmakers didn't have much of a choice.
The Artist tells the story of down-on-his-luck silent film actor George Valentin (Dujardin) in the most logical way possible: as a silent film. The movie features no dialogue, a crisp black and white picture and a toe-tapping score to keep the pace. If you didn't know beforehand, you'd think Dujardin was just another dashing star alongside greats like Charlie Chaplin, Douglas Fairbanks or Buster Keaton. And without the constraint of language, Hazanavicius was able to enlist a handful of familiar faces for Valentin's story, including John Goodman, James Cromwell, Penelope Ann Miller, Berenice Bejo and Missi Pyle. The experience, as you may imagine, is something unique and magical.
I had a chance to speak to Hazanavicius, Bejo, Miller and Dujardin—who's generating tons of Oscar buzz for his work in The Artist—regarding the film's atypical style and whether or the release could spark a new wave modern silent films. Check it out below!
The Artist is out now in limited release.
="font-style:>
Jean Dujardin and Berenice Bejo