Vin Diesel to Star in 'Kojak' Movie by 'Skyfall' Writers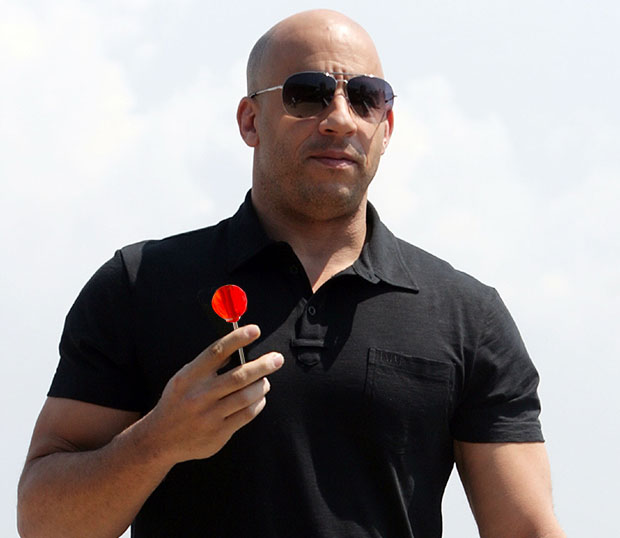 Lt. Kojak is one of those iconic figures of pop culture yore whose name carries enough familiarity, and attitude, to suggest revival possibility, but who doesn't quite have the timeless appeal to automatically connect with newer audiences. It's likely that most younger film and television viewers of today have, at one time or another, heard of Kojak. And it's just as likely that they've never actually seen him in action, or even really wanted to.
This theory is abetted by the short-lived return the character (originated by actor Telly Savalas) made to the television screen in 2005, embodied this time around by Ving Rhames. The post-millennium USA show only lasted 10 episodes, failing to muster up the allure that Kojak warranted back in the '70s. But this doesn't mean there's no hope for a character like the New York City-based police lieutenant. His reincarnation needs simply to be handled delicately and ingeniously. In short, make him a movie: Deadline reports that Universal has set forth a film adaptation of the Kojak character to star Vin Diesel. The studio is handing scripting responsibilities to Neal Purvis and Robert Wade, who have written the last five James Bond movies, including this year's excellent Skyfall. Hollywood.com reached out to Vin Diesel's reps, but they were not immediately available for comment.
At first glance, we seem to be gearing up for a pretty action-heavy interpretation of the concept, with Diesel dueling mustachioed criminals atop speeding trucks. But the original Kojak series, while not devoid of action, was built more upon the foundations of the drama and tension of criminal activity and the legal process — it would better be called a precursor to Law & Order than to Diesel's big screen work.
But this collection of creative forces might not be a bad choice for a Kojak movie. Aside from bearing a striking resemblance to Savalas (you can say that they're both just tan bald dudes, but there's more to it than that!), a now 45-year-old Diesel could be looking to take slower-paced roles with a bit more weight — we have seen a decrease in frequency of his cinematic output over the past couple of years. And as we saw in Skyfall, Purvis and Wade are adept, not only at crafting fight scenes, but also booming drama. Kojak purists, however many of them there might be out there, shouldn't be deterred. Fans of Diesel will be happy to hear about him headlining another cop picture, and perhaps delighted to see him take on a bit more gravitas with this one. And everyone who liked Skyfall — which is everyone, ever — should be encouraged by the screenwriters' reunion for a new non-Bond movie.
[Photo Illustration by Hollywood.com; Photo Credit: WENN; Ana Ulin/flickr]
More:
'Star Trek Into Darkness': Kirk's Starship-Sized Fail — TRAILER
'Jack Reacher' Director: 'I'd Be a Soulless Ass If I Worried About My Film After Newtown'
'Hobbit' Inspires 10 Celebrities Gollum-ized with Gollum Eyes

'The Hobbit' Cast: A Who's Who New Character Guide (Moviefone)

'Les Miserables' Unscripted: Hugh Jackman, Anne Hathaway On Singing And Being Modest