Vince Vaughn's Sperm Counts Too High in 'Delivery Man' First Trailer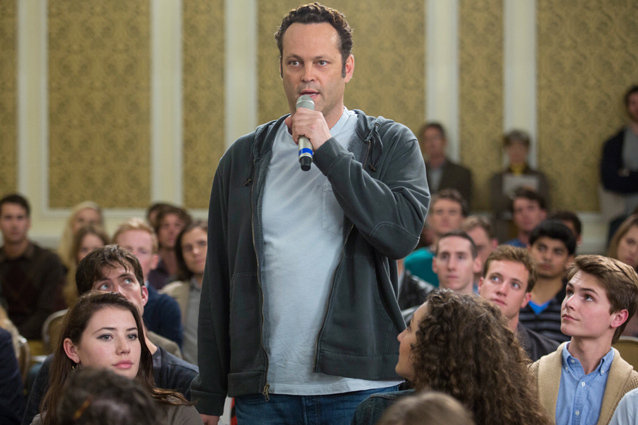 How would you react to hearing you're miraculously the father of 533 children? Go into panic mode as your jaw drops to the floor? Yep. That sounds just about right– and that's exactly what happens in the first trailer for Vince Vaughn's comedic flick Delivery Man.
Directed and written by Ken Scott, Delivery Man stars Vaughn as mid-age slacker David Wozniak. A mix-up at a fertile clinic two decades ago sends Wozniak into a state of solid shock after he hears that his anonymous donation back in the day somehow led to him becoming the inadvertant father of a slew of children, 533 to be exact. And now 142 of them are filing a lawsuit for Wozniak to disclose his identity. Now that's complicated. But hey, at least Wozniak has a high sperm count to brag about!
As Vaughn grapples with whether or not he should step forward as the father of 533, he develops a sense of guilt, which drives him to act as a guardian angel figure as he lends himself to watch over his 'children'. 
While on the brink of heartfelt goop and pure obscurity, Deliver Man catapults Vince Vaughn in the same dull role that he always plays out, but with far less laughs than Wedding Crashers  or even The Internship  for Pete's sake! 
The comedy, which is a remake of Ken Scott's Starbuck from 2011, stars Vince Vaughn alongside Chris Pratt and Cobie Smulders and is set for release on November 22, 2013.
Follow Cori on Twitter @gimmegimmeCOR 
Follow Hollywood.com on Twitter @Hollywood_com
More:
Chris Pratt Thinks Vince Vaughn Is Insane in 'Delivery Man' Teaser 
Watch Michael Cera's Weird Short Film
New 'Rush' Trailer
---
From Our Partners


Stars Pose Naked for 'Allure' (Celebuzz)


20 Grisliest TV Deaths of 2012-2013 (Vulture)