Walken, Hoffman and Keener Toast in 'A Late Quartet' Image
So what, a picture of four people toasting? You're supposed to get excited about that?
Yes. Because in a casting miracle, A Late Quartet has strung together Christopher Walken, Philip Seymour Hoffman, Catherine Keener, and Mark Ivanir. The group will portray a musical ensemble that has remained intact for a quarter of a century. Things are thrown awry when Walken's character develops Parkinson's Disease, and the quartet, the members' livelihood and identity, is threatened. This perilous time incites tension, hostility and lust among the group. Quite the hullabaloo.
Starring as Hoffman's/Keener's daughter, and a victim of the group's salacious turmoil, is Imogen Poots, who rocks the casbah.
There's nothing like a good old fashioned humanity story, especially one that stars a clique of people so excellent at depicting genuine humanity. People forget that Christopher Walken is more than a hilarious cameo: he is a majestic thespian. Catherine Keener has kick-in-the-jaw delivery of the dramatic. And Hoffman… where to begin? PSH is the kind of actor that makes me love movies. Okay, that's where I'll begin. And end. It says it all. As will this film.
A Late Quartet
: the thunderdome of violin movies.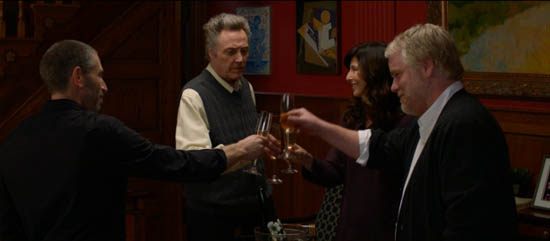 Source: Indiewire