Warner Bros. Nears 'LOTR'-Style 'Bone' Adaptation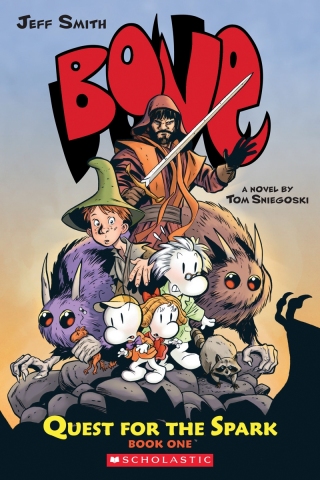 Jeff Smith's famous comic book epic, Bone, will finally find its way to the big screen.  Warner Bros is considering adapting the over 1,300 page series into a trilogy of films. The films would use computer animation, in the style of Spielberg's upcoming Tintin film.
The comedic adventure of Bone follows cousins Phoney, Smiley, and Fone Bone as they embark on a journey to save the world. Think Lord of the Rings, but with snarkier hobbits. Smith's series ran for thirteen years under his own imprint, Cartoon Books, but was reprinted and colored by Image Comics in 2005. These reprints skyrocketed Bone to popularity, particularly among young readers. The series has also garnered critical acclaim, and has won ten Eisner awards.
"I'm a comic book guy, I'm not a movie guy," Smith explained, and added that he's "actually excited about the movie for the first time in a long time"
Both Paramount and Nickelodeon previously attempted to adapt the film, but those projects each hit a dead end. Warner Bros is currently working on the third draft of the script. According to Smith, he has seen some test footage for the film, but we should not anticipate a release for at least another two years.
I have to own up to never having read Bone, despite years of enthusiastic recommendations from friends, so I can't offer my personal opinions or suggestions. From what I've heard, though, the epic, touching series is perfect for the big screen. However, I must point out that the last adaptation of a beloved cartoon Warner Bros attempted was Yogi Bear. Which is not a promising sign.
Source: LATimes