Warner Bros. Revisiting 'The Bodyguard'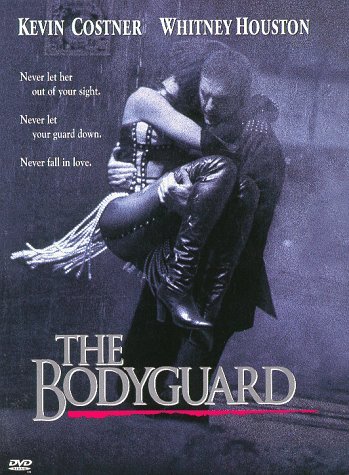 If Kevin Costner is back in the news one more time this week, he'll tie Charlie Sheen's record for most nauseating headlines in a five-day period. The first story focused on the Oscar winner's possible involvement in Warner Bros. high-priority reboot of its treasured Superman property, but today's news is about one of the studio's (and Costner's) biggest and most unlikely hits of the 1990s: The Bodyguard.
According to Deadline, WB is ready to revisit the romantic thriller that grossed over $400 million at the worldwide box office and sold a ton of records featuring the music of the film's co-star Whitney Houston. Dan Lin (Sherlock Holmes), a Warner-based producer with shepherd the project while Mark Bauch serves as co-producer. They've already hired Jeremiah Friedman and Nick Palmer, whose action comedy script Family Getaway made the 2010 Black List and is a priority project at Warner Bros, to adapt the screenplay (the original was written by the great Lawrence Kasdan).
The new version will skew close to the original. The male lead will play an Iraq War veteran (instead of a former Secret Service agent) who returns home and takes a job protecting a young star as his first gig after leaving the Army. Twitter, Google Maps, TMZ and various technological advances will play a significant role in the plot as they are used by obsessive fans to stalk the singer. The goal is to take a young female singer with global appeal and give her the platform that the original did Houston (sounds like a job for Rihanna).
From a qualitative perspective, this sounds awful. The 1992 original is far from good, but in the age remakes I don't see a reason why a company wouldn't redo one of its most successful financial hits, especially since this won't be a film with a particularly exuberant negative cost. If Warner's can nab someone like Rihanna, a Grammy winning globally recognized star who happens to be already making her film debut in a much bigger picture (2012's Battleship), and pair her with a young heartthrob from the cover of Teen Beat (sounds like a job for Taylor Lautner) there's great potential for major box office. However, I know I won't be buying a ticket.  
Source: Deadline