Warner To Release Special 40th Anniversary 'A Clockwork Orange' Blu-Ray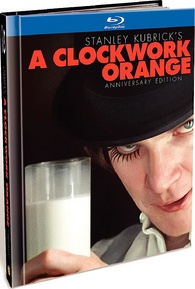 On May 31, Warner Home Video will release a 40th Anniversary Blu-ray Edition of Stanley Kubrick's A Clockwork Orange — widely considered to be one of cinema's greatest and, let's be honest, creepiest films. And if that's not enough Kubrick for you (when is there ever enough Kubrick for anyone?), good news. On the same date, Warner plans to release a nine-movie, ten-disc Stanley Kubrick Limited Edition Collection, which will feature Blu-ray editions of Spartacus, Lolita (new to Blu-ray), Dr. Strangelove or How I Learned to Stop Worrying and Love the Bomb, 2001: A Space Odyssey, A Clockwork Orange, Barry Lyndon (new to Blu-ray), The Shining, Full Metal Jacket and Eyes Wide Shut.
For those who haven't seen A Clockwork Orange (And why haven't you? Go watch it now.), it's a dark, satirical film that takes place in a dystopian, future Britain and follows Alex, a charismatic man who takes pleasure in rape, classical music, and "ultra-violence." The film features disturbing imagery, but is viewed as a commentary on psychiatric therapy, politics, and violence. It's based on the book by Anthony Burgess.
In other words? It's a pretty fucked-up film. But it's one of those pretty fucked-up films in a good way. Check out the special features below.
• Commentary by Malcolm McDowell and historian Nick Redman
• Malcolm McDowell Looks Back: Malcolm McDowell reflects on his experience working with legendary director Stanley Kubrick on one of the seminal films of the 1970s (new)
• Turning like Clockwork: the film's ultra-violence and its cultural impact (new)
• Still Tickin': The Return of Clockwork Orange
• Great Bolshy Yarblockos!: Making A Clockwork Orange
• Theatrical Trailer
• Stanley Kubrick: A Life in Pictures: Kubrick's career comes into sharp focus in this compelling documentary narrated by Tom Cruise. Fascinating footage glimpses Kubrick in his early years, at work on film sets and at home, augmented by candid commentary from collaborators, colleagues and family (new to Blu-ray)
• O Lucky Malcolm!: Documentary about the life and career of actor Malcolm McDowell produced and directed by Jan Harlan
The 40th Anniversary Edition will be packaged in a 40-page Blu-ray Book with rare photos, production notes and more.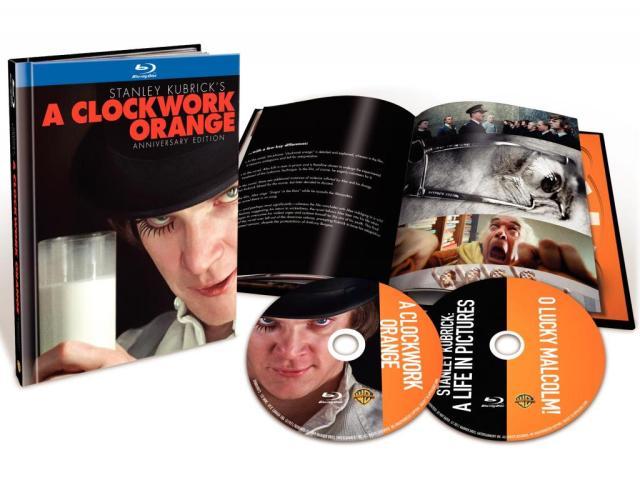 Source: Blu-ray