Watch an Animated World Come to Life in a New Trailer for 'The Boxtrolls'
As fans of animated movies and Ben Wyatt know all too well, there's a great deal of time and effort that goes into stop motion animation. However, since all audiences see in the theaters is the finished product, Laika, the studio behind ParaNorman and Coraline, released an amazing new trailer for their upcoming film The Boxtrolls highlights just how much work and attention to detail goes into every single frame of a stop-motion animated film. 
Based on the children's book Here Be Monsters by Alan Snow, The Boxtrolls will tell the story of Eggs (Isaac Hempstead-Wright), who was found as a baby by a community of Boxtrolls — trash-collecting creatures who live underground and wear boxes for clothing — and is forced to try and save his friends when an evil exterminator (Ben Kingsley) attempts to wipe them out in order to improve the town standing. Assisting him is Winnie (Elle Fanning), a young, wealthy girl who helps Eggs find a place for the Boxtrolls on the surface. The dialogue-less trailer gives the audience a quick introduction to the characters, the Boxtrolls, and the intricate, painstakingly crafted worlds they live in.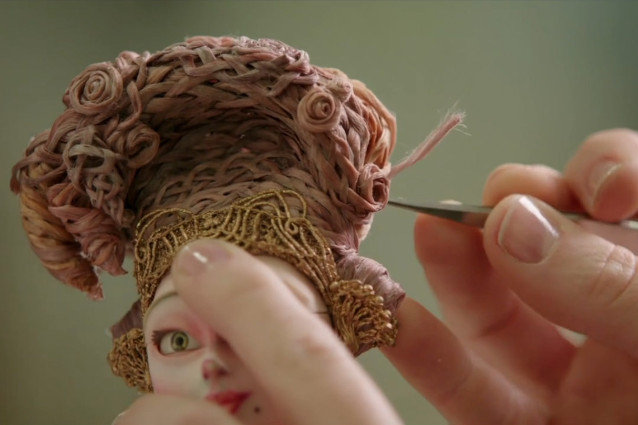 Laika Entertainment
The trailer gives as surprising and delightful look at the way that stop-motion animation comes together, from adjusting the tiny wire flowers in a crack in the sidewalk, to the drawers full of faces that need to be modeled and painted, to the metal bodies that give the figurines support and help them move. Whether or not you're interested in seeing the process of making movies, the trailer for The Boxtrolls reveals some of the effort and work that does into the film, and then seamlessly blends it with footage from the finished film, giving audiences a chance to see both sides of the film.
To see the results of all of that hard work, and to find out why all of the characters are so obsessed with cheese, catch The Boxtrolls when it arrives in theaters September 26, 2014.