Watch the First Trailer for Abraham Lincoln: Vampire Hunter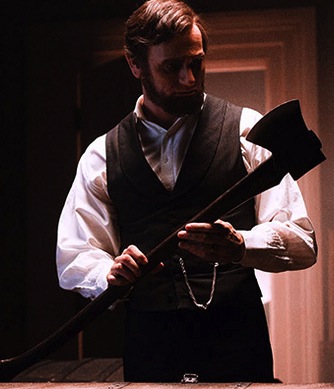 The title alone of the best-selling novel Abraham Lincoln: Vampire Hunter seems like the punchline of a joke, but the actual contents of the book are, unexpectedly, quite serious. The story follows Abe, whose parents were murdered by vampires, as he seeks revenge against bloodsucking race, slicing and dicing them up with his signature axe. Ridiculous? Only if you want it to be—which the filmmakers behind the movie clearly did not.
The first trailer for the film, helmed by Wanted director Timur Bekmambetov and starring newcomer Benjamin Walker as the 16th Prez, has hit the web and there's not a wink to the camera or jokey gag in sight. This is straight up, 19th century action, featuring Mr. Lincoln battling monsters, riding escaped trains and riding into battle with as much fervor as Mel Gibson in Braveheart. There's an obvious worry that audiences won't take an alternate fiction premise like Abraham Lincoln: Vampire Hunter seriously, but this first glimpse of footage declares the intent and forcefully delivers. If only it balanced vampire hunting with clips of co-star Mary Elizabeth Winstead, I'd be 100% thrilled by it…
History teachers are going to have a lot of explaining to do once Abraham Lincoln: Vampire Hunter hits theaters June 22, 2012!