'We Bought A Zoo' Arrives on Blu-ray and DVD on April 3!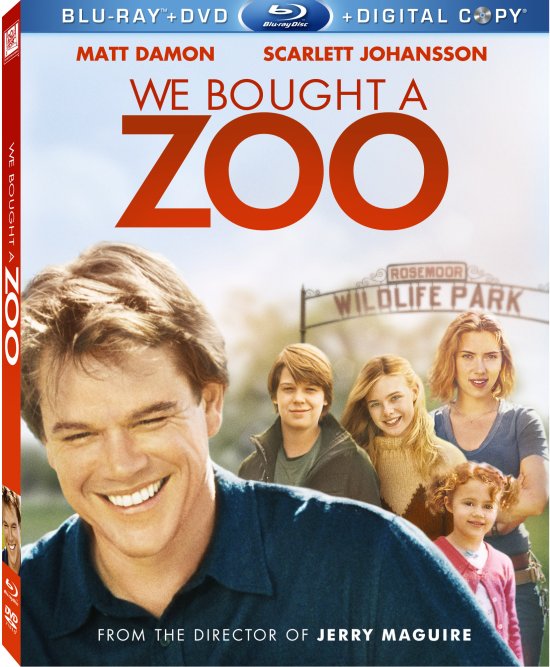 With spring well on its way, it's getting time to start thinking about the Easter gifts you're hoping to receive and/or give out. If you're looking for ideas, nothing says "fun-loving" quite like Cameron Crowe's We Bought A Zoo, which is arriving on Blu-ray and DVD April 3. The all-star cast includes Matt Damon, Scarlett Johansson, and Thomas Haden Church in a sweet-natured tale about a guy who decides to change his family's lives forever by moving away from the hassles of the city and into the arms of nature by buying a zoo. It's fun, uplifting and great to put on during an Easter get together with the family.
And if you're one who loves to hear all about the creative process behind the camera, the Blu-ray combo pack includes commentary with director Cameron Crowe himself, along with J.B. Smoove (The Sitter), and film editor Mark Livolsi. If you're really looking for something with a ton of extra features, this film has got it in spades. The Blu-ray is loaded with over 2½ hours of special features that includes a hilarious gag reel, four behind-the-scenes featurettes, and 20 deleted/extended scenes in the film such as:
Elevator EmpathyA Gift From RonnieLife is ElementalThank You, RhondaRosie Names Her PeacocksQuick LearnerJust Can't Get a Handle On ItSo Much BloodshedBuster is LooseUtterly Free / Nobody DiedI Make My Own HoursThe Stuff is AliveWe're Living The StoryDisaffected YouthIt's Their Zoo, TooGoodnight Big MacSuch a ClichéSorry About the RainBenjamin's Big SpeechOpening Day
All-in-all, a great Easter gift which is sure to put a smile on anyone's face. Remember to buy it in stores starting on April 3!