Wedding Crashers Vince Vaughn and Owen Wilson Reteam for 'Interns'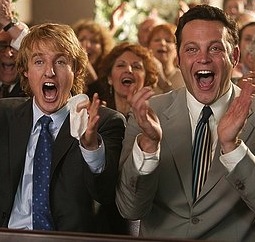 Like many stars with explosive hits, Vince Vaughn's post-Wedding Crashers films have been hit or miss with audiences. The Break-Up paired him with Jennifer Aniston to mostly solid results, while Fred Claus, Four Christmases, Couples Retreat and The Dilemma hit and quickly fizzled out. His upcoming Neighborhood Watch, which throws Vaughn into a comedy dream team with Ben Stiller, Jonah Hill, Will Forte and Richard Ayoade, shows promise. But the towering funnyman has another sure thing up his sleeve—and it has plenty in common with Wedding Crashers.
According to Vulture, Vaughn is set to reunite with former Crasher co-star Owen Wilson for Interns, a movie the star wrote that's being put into the fast lane by Fox. Under the eye of Neighborhood Watch producer Shawn Levy (Real Steel, Date Night), who has transitioned rom a planned adaptation of Frankenstein to the Interns director chair, the movie centers on two older gents downsized and forced to take intern positions at a budding tech company. There, they find themselves competing against a crowd of youngsters, gunning for full-time positions.
The movie sounds right in Vaugh and Wilson's wheelhouse, an Old School-esque comedy that relies on the boyish charms of both leads while giving them ample opportunity to mess with twenty-somethings (which also brings Wilson's Drillbit Taylor to mind). There are few details on who else may come on-board Interns, or when it may begin shooting, but with Fox's enthusiasm for the main trio, expect more news on the movie sooner than later.
Source: Vulture