What Are the Most Common Words in Sequel Titles?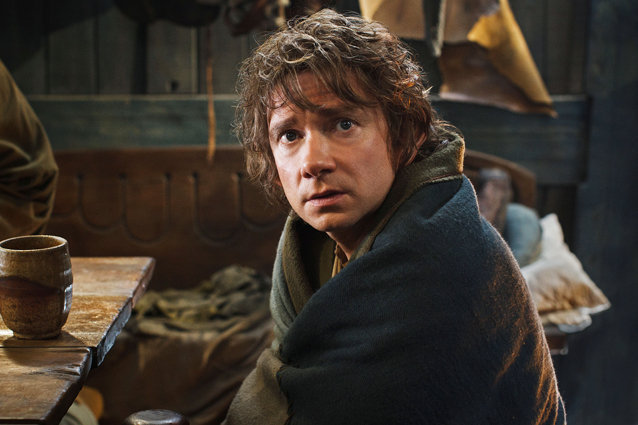 Warner Bros. Pictures via Everett Collection
The final Hobbit film has a brand new name. On his Facebook page, Peter Jackson revealed that the final leg of Bilbo's Journey, originally titled The Hobbit: There and Back Again, has been changed to The Hobbit: The Battle of the Five Armies. A week ago, there were rumors that the third film in Jackson's Hobbit trilogy might be retitled to Into the Fire, a title that in some ways felt apt, Smaug being a fire-breathing dragon and all, but also felt like one of those generic catch-all subtitles that could be sewed on to any film and fit seamlessly.
Battle of the Five Armies doesn't have the same nostalgic ring to it as There and Back Again, which is the actual subtitle to the original novel, but it does fit better than Into the Fire. J.R.R. Tolkien's novel does consist of a battle between five armies. In celebration of The Hobbit sequel's new title, We've decided to create a list of the most commonly used words in sequel titles equipped with a colon.
"Fire"
Harry Potter and the Goblet of Fire, The Hunger Games: Catching Fire, Twin Peaks: Fire Walk with Me, Planes: Fire & Rescue
"Back"
Star Wars: Episode V – The Empire Strikes Back, Leprechaun: Back 2 tha Hood, Barbershop 2: Back in Business, Major League: Back to the Minors, Police Academy 3: Back in Trainin, Sister Act 2: Back In The Habit, Space Chimps 2: Zartog Strikes Back
"Revenge"
Transformers: Revenge of the Fallen, Star Wars: Episode III – Revenge of the Sith, Jaws: The Revenge, A Nightmare on Elm Street Part 2: Freddy's Revenge, Halloween 5: The Revenge of Michael Myers, Jack Frost 2: Revenge of the Mutant Killer Snowman, Cats & Dogs: The Revenge of Kitty Galore
"First"
X-Men: First Class, Star Trek: First Contact, Rambo: First Blood Part II, Police Academy 2: Their First Assignment, Police Story 4: First Strike
"Last"
Indiana Jones and the Last Crusade, X-Men: The Last Stand, Road House 2: Last Call, The Toxic Avenger III: The Last Temptation of Toxie
"Final"
Star Trek V: The Final Frontier, Lake Placid: The Final Chapter, Naked Gun 33 1/3: The Final Insult, Children of the Corn II: The Final Sacrifice, Jason Goes to Hell: The Final Friday, The Human Centipede 3 (Final Sequence)
"Next"
The NeverEnding Story II: The Next Chapter, Texas Chainsaw Massacre: The Next Generation, Revenge of the Nerds III: The Next Generation
"Rise"
300: Rise of an Empire, Fantastic Four: Rise of the Silver Surfer, Terminator 3: Rise of the Machines, National Lampoon's Van Wilder: The Rise of Taj
"Return"
Star Wars: Episode VI – Return of the Jedi, The Lord of the Rings: The Return of the King, Cocoon: The Return, Halloween 4: The Return of Michael Myers, Universal Soldier: The Return, Legends of Oz: Dorothy's Return, Growing Pains: Return of the Seavers
"Dark"
Thor: The Dark World, Star Trek Into Darkness,Transformers: Dark of the Moon, 30 Days of Night: Dark Days, Under Siege 2: Dark Territory
"Game"
Sherlock Holmes: A Game of Shadows, Highlander: Endgame, Spy Kids 3-D: Game Over, Delta Force 3: The Killing Game
"World"
Thor: The Dark World  (twofer!), The Lost World: Jurassic Park, Pirates of the Caribbean: At World's End, Spy Kids: All the Time in the World, You Got Served: Beat the World, The Cheetah Girls: One World, In the Name of the King 2: Two Worlds, Air Bud: World Pup