What Happened to All the First Time Oscar Nominees?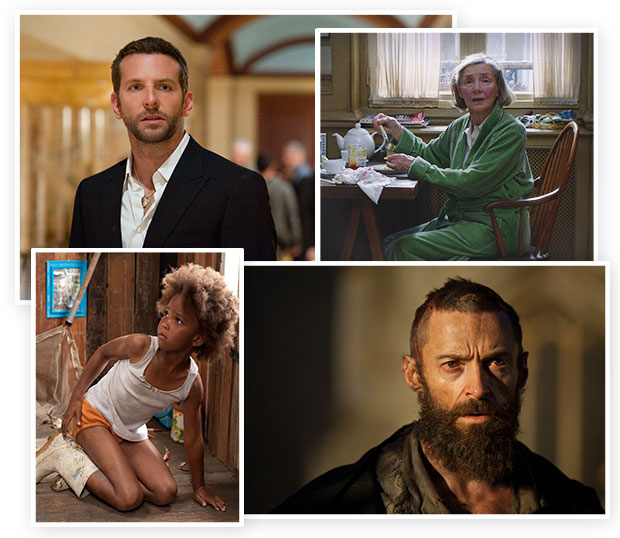 Doesn't it seem like, more and more, the Oscars are only handed out to a select few that Hollywood has deemed worthy? It's like anything that Robert De Niro, Martin Scorsese, Meryl Streep, or Amy Adams does gets a nomination more as a reflex than as an actual consideration. If Meryl had actually faked an orgasm in Hope Springs you could expect to see her name up there on the official nominees list. This year the nominations seem to spell a trend away from nominating people for the first time. It's hard to find a virgin to sacrifice this year.
RELATED: 2013 Oscar Nominations: See the Full List of Nominees Here!
There are only six people nominated for Best Director or in all four of the acting categories who haven't been nominated before. Of those six people two – Hugh Jackman and Bradley Cooper – are already giant Hollywood stars, one – QIWillNeverLearnHowToSpellThis Wallace – is only 9 years old and hasn't had time to act in anything else, and one – director Michael Haneke – we shouldn't even count because his 2009 movie The White Ribbon won an Oscar for Best Foreign Language Film. Who does that leave us with? Emmanuelle Riva, who is a French actress and, well, Americans really hate subtitles, don't they? Yes, they do. The only one who really leaves us with is Benh Zeitlin, the director of Beasts of the Southern Wild. That is an acceptable first-time nominee.
Aside from Ben(Don't Forget The)h, it's almost as if these newbies don't even count. Meanwhile, for the first time ever, the Best Supporting Actor category is full of men who have each won at least one Oscar. Yes, these people are going to be getting the gold for the second time and meanwhile John Hawkes, who gave the performance of the year in The Sessions, didn't get any love at all. Or what about Jack Black totally changing gears in Bernie? But no, let's dip back into the well-worn Oscar well. In fact, of the 25 nominees, there are 19 Oscars already awarded, and that goes up to 21 if you count Spielberg's two trophies he didn't win for Best Director.
This is a recent trend because back in 2010, 14 of the 25 nominations were first timers and four of the five winners (Kathryn Bigelow, Sandra Bullock, Christoph Waltz, and Mo'Nique) had never seen the Nominees Luncheon before. In 2011 that was down to 11 nominees and 2 wins (Tom Hoopper and Christian Bale) and that number shrunk again last year with 10 nominees and 3 wins (Michel Hazanavicius, Jean Dujardin, and Octavia Spencer) with two of those winners making their American film debut. This year we can have a max of three new winners, but it will probably be more like zero (and not of the dark thirty variety). None of these people, right now, are frontrunners.
RELATED: The Year's Biggest Oscar Snubs
So, why are we just recycling old material when it comes to the Oscars? It might be because the voters are older and nominate and then vote for people they already know. It's easier to write down Naomi Watts than try to figure out how to spell the young Ms. Wallace's first name. And when it comes to campaigning, so much of it has to do with past snubs and oversights that the Oscar often goes to someone as sort of a lifetime tribute rather than for that one specific role. (Heck, Melissa McCarthy even won an Emmy because she lost an Oscar.)
RELATED: 2013 Oscars Nominate Only 9 for Best Picture: Who Should be No. 10?
It's also harder to get a movie made these days, especially if there isn't a known quality. Getting someone to plop down a bunch of coin for anything by Spielberg or for a giant movie musical based on one of the most popular stage shows of all time (Les Mis, of course) than some experimental allegory about giant beasts and post-Katrina New Orleans. But when they do put that money down, it can really pay off.
The Oscars shouldn't just be about glad-handing the usual suspects (except, when Kevin Spacey won) but also about discovering and rewarding new talent so that the luster of the ceremony can rub off on the most deserving so that they can go on to bigger and better projects. A nomination is not only a chance to win, but a launching pad, something that has given us some of our best and brightest stars. We wouldn't have Amy Adams 100th consecutive nomination if she didn't get plucked from obscurity and nominated for Junebug. Sure, sometimes it doesn't work out (I haven't seen Mo'Nique's apostrophe in quite some time) but we're always grateful when it does. While Daniel Day-Lewis may be deserving of his third (third!) statuette, maybe it would behoove the Academy to start making the next generation of celebrities before this one goes entirely extinct.
Follow Brian Moylan on Twitter @BrianJMoylan
[Photo Credit: The Weinstein Company, Sony Pictures Classics, Fox Searchlight, Universal Pictures]
---
From Our Partners:


40 Most Revealing See-Through Red Carpet Looks (Vh1)


33 Child Stars: Where Are They Now? (Celebuzz)
---
Oscars 2013 Special Coverage
---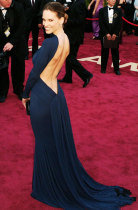 15 Most Iconic Red Carpet Dresses
• We Predict the Winners: Do You Agree?
• 15 Oscar-Winning Nude Scenes
• The Worst Best Picture Winner Ever
• Oscar's Problem With Pretty Boys
• Why Stars Should Fear Seth MacFarlane
• 10 TV Stars You Never Knew Won Oscars
• The Winner, According to You