What Is the World's Most Evil Country, According to Bond?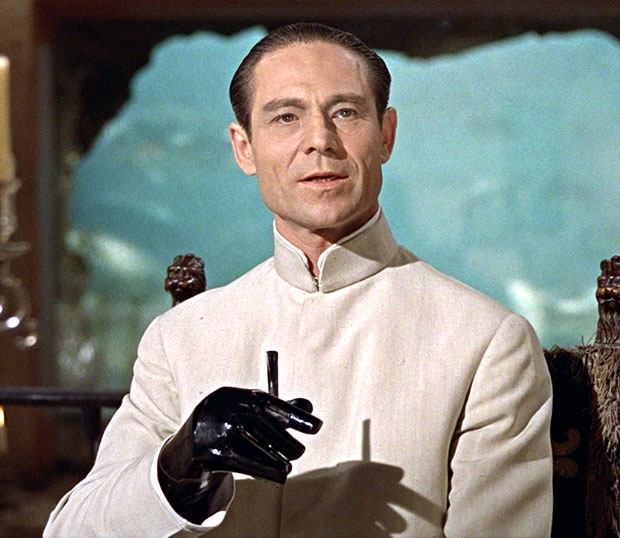 Dr. No, Goldfinger, The Man With the Golden Gun — the villains that threaten James Bond are so vital to the 007 franchise their names (or descriptions) are often put right in the title. Everything about the Bond villains is larger than life, from their monikers to their schemes to their accents. And, as such, their identities often become entwined with their nationalities. Second World War allegiances and secret Nazi heritages are key to making the antagonists the Big Bad Evildoers that they are.
But the question is, is there one country that is more evil than all the rest? Whence do all the Bond baddies hail? It must be Germany, right? Or Russia? All the bad guys during the Cold War era were obviously from Russia. Right? Wrong! We got out our calculators and did some math and now know — because science — that the world's most evil country is…
Great Britain! Yep, you better believe it. The nation that brought us fish and chips, Cockney accents, and Victoria Beckham (née Spice) also delivered 4.5 Bond villains. Russia is a close second (with three) and Germany is not too far behind (1.5). Don't believe us? Here's the rundown: 
Great Britain: 4.5
Auric Goldfinger,Goldfinger (While Goldfinger is presumed to be of German descent, he is in fact a British citizen. In Ian Fleming's novel he is Latvian, but for our purposes only the movies matter.)
Francisco Scaramanga, The Man With the Golden Gun
Elliot Carver, Tomorrow Never Dies
Elektra King, The World is Not Enough
Gustav Graves, Die Another Day (As Graves was formerly North Korean Tan-Gun Moon, he only receives half a point.)
Russia: 3
Colonel Rosa Klebb, From Russia With Love
Georgi Koskov, The Living Daylights
Renard, The World is Not Enough
Germany: 1.5
Max Zorin, A View to Kill
Dr. Julius No, Dr. No (Dr. No is half German, half Chinese, so he therefore gets half a point for his German heritage.)
Afghanistan: 1
Kamal Khan, Octopussy
Caribbean: 1
Dr. Kananga/Mr. Big, Live and Let Die (Of course we know that the Caribbean isn't a country, but Mr. Big is from the fictional isle of San Monique.)
Cossacks: 1
Alec Trevelyan, GoldenEye
Greece: 1
Aristotle Kristato, For Your Eyes Only
Italy: 1
Emilio Largo, Thunderball
Poland: 1
Ernst Stavro Blofeld, From Russia with Love, Thunderball, You Only Live Twice, On Her Majesty's Secret Service, Diamonds Are Forever, For Your Eyes Only
South America: 1
Franz Sanchez, License to Kill (It is only implied that Sanchez is Colombian, but not made explicitly clear.)
Sweden: 1
Karl Stromberg, The Spy Who Loved Me
United States of America: 1
Brad Whitaker, The Living Daylights
China: .5
Dr. Julius No, Dr. No (Dr. No's mother was Chinese; his father a German missionary.)
North Korea: .5
Colonel Tan-Gun Moon, Die Another Day (Due to a DNA transplant, Moon later becomes Gustave Graves; therefore he receives half a point.)
Unknown: 4 
Hugo Dax, Moonraker (Believed to be German, but not stated)
Le Chiffre, Casino Royale (Believed to be Albanian, but not stated)
Dominic Greene, Quantum of Solace
Raoul Silva, Skyfall
Food for thought: Even though Ernst Stavro Blofeld is just one man, he has made appearances (even though some were small) in six Bond films. Could this make Poland the most evil country? Discuss.
Follow Abbey Stone on Twitter @abbeystone
[Photo Credit: United Artists]
More:
What Your Favorite James Bond Says About You
Idris Elba As James Bond: The Right Move for the 007 Franchise
James Bond Turns 50: Why the Franchise Should Never End
From Our Partners:

New 'Star Wars VII': What to Expect
(Moviefone)

(Moviefone)