We Love Channing Tatum, But 'White House Down' Would Be Nothing Without Its Music (and Squirrels!)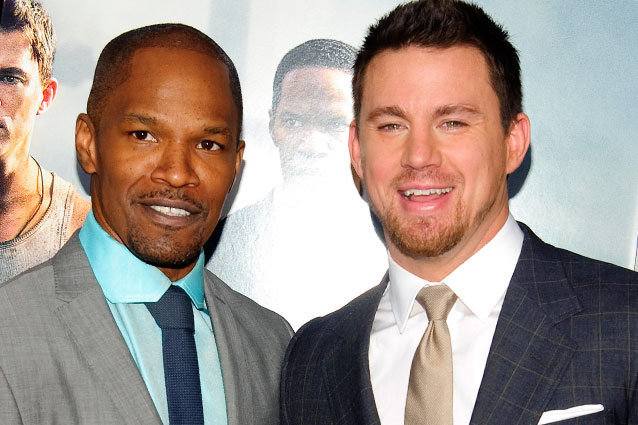 The blue carpet was sizzling at Tuesday night's New York premiere of White House Down – and not just because Channing Tatum was in the vicinity. Tatum and his costar Jamie Foxx decided to beat the heat, rolling up to the carpet in a limo that was riddled with (fake) bullet holes. As their sweet ride cruised by, a crowd of female fans (some in custom-made shirts) screamed upon sighting the stars through the window.
Although Tatum and Foxx work together onscreen to stop a paramilitary group from taking over the White House, there was a team of people behind the scenes of the film who didn't recieve the same adoration from fans. Screenwriter James Vanderbilt and composer Harald Kloser both played a part in bringing White House Down to the big screen. They served as producers on the film as well.
When writing the script, Vanderbilt was inspired by the summer blockbusters he watched growing up. "We just designed it to be fun," Vanderbilt said. "There's so much out there that's either superhero or post-apocalyptic. This is just a good old-fashioned buddy action movie, where you sit with a big tub of popcorn and have a great time."
Seeing Tatum and Foxx act opposite each other for the first time on set was an exciting experience. "They're phenomenal together," Vanderbilt said. "You write a buddy movie and at the end of the day either the guys work together or they don't. The first day they were together we all breathed an enormous sigh of relief."
Tatum actually had a much more difficult costar to work with than Foxx. Kloser revealed that Tatum had a scene with a squirrel that was challenging to film. "The most difficult thing in this whole movie was a scene that Channing has with a squirrel, and that squirrel was really difficult to get to interact with Channing," Kloser said.
Kloser has previously worked with White House Down director Roland Emmerich on action-filled movies such as 2012 and 10,000 BC. "Roland hired me to write the music for The Day After Tomorrow, and in the process of working on that we became friends," Kloser said. "I told him some of my ideas that I had for new movies and I got lucky enough that we made a few of them together."
As a composer, Kloser truly understands the importance of music in films. "I'm one of the few people who gets to see movies without music. Normally, people don't get to see that," Kloser said. "Whenever somebody comes to visit me in the studio and I take the music down and it's only the movie, they go 'Oh my God, I had no clue how important music is in movies.'"
As cast and crew alike escaped the humid air of the carpet and entered the Ziegfeld Theatre, they got ready to enjoy what was truly a group effort.
Follow Mary Oates on Twitter @mary_oates | Follow Hollywood.com on Twitter @hollywood_com
More:
'White House Down' Clips
'White House Down' Looks Really, Really Funny
'White House Down' Looks Like '21 Jump Street'
---
From Our Partners


Stars Pose Naked for 'Allure' (Celebuzz)


20 Grisliest TV Deaths of 2012-2013 (Vulture)