'White House Down': Roland Emmerich Is Our Guide on the Ultimate Field Trip
After wrapping my tour of the set of White House Down, the new movie from destruction maestro Roland Emmerich (Independence Day, 2012), one movie jumped to mind: Russian Ark. Alexander Sokurov's 2002 drama was a history nerd's fantasy come to life, 300 years of Russian culture compacted into one 96-minute film. Sokurov orchestrated it all in one single camera movement, floating through the Russian State Hermitage Museum's Winter palace like a ghost, with costumed characters moving in and out of rooms to showcase the passing of time. It's a mesmerizing spectacle akin to architectural pornography. It's incredible.
Russian Ark may be on the other end of the spectrum from White House Down in terms of cinematic goals, but they share a common element. Both movies love their locations. While my experience on the White House Downset promised an excess of action — from shootouts to hand-to-hand combat to a demented car chase featuring Cadillac One — Emmerich's latest is also infatuated with historical fact and architectural accuracy. When we follow Channing Tatum and Jamie Foxx running down the halls in true summer blockbuster style, it won't just be for the tumbles and gun squibs. It'll also be for what's behind it, a stunning recreation of the places we don't see in the White House.
Emmerich has a love for the White House. The German director first visited America when he was 12-years-old, and his first stop was to see the grand presidential mansion. Afterward, he caught a drive-in flick: Planet of the Apes. It all makes sense now.
The director will always have a connection to the most famous home in America. He did the unimaginable when he blew it up in Independence Day. "There I used the White House as a symbol," Emmerich tells us while waiting for his crew to prepare for that day's filming. "When I destroy it with one 'boom,' people will be really taking the invasion serious. Anything can happen when the White House explodes."
Emmerich has returned to the White House out of the pure trip of playing with recognizable monuments of mankind. He won't make an adaptation of a famous character or property because he isn't interested. He likes f**king with the reality that people know. "I don't like comic book heroes or comic book films very much. Because of that, I have to find other ways to find trademark names. Like 2012. Moments in time where it's bigger than life. It gets harder and harder to open a movie worldwide where it doesn't have one of these things. Everyone in the world will understand White House Down."
The day I arrived on set in mid-August of 2012, Emmerich was preparing to shoot one of White House Down's calmer scenes, a moment where President James Sawyer (Foxx) greets a group of White House tourists and charms the pants off 'em. It's also where he first meets John Cale (Tatum), a hopeful Secret Service agent, and his daughter Emily (The Dark Knight Rises' Joey King), a rambunctious tween hoping to get a few quotes from the President for her political YouTube channel. Kids these days. They play the scene a few times, Sawyer giving Cale a bit of crap for letting his daughter get out of hand.
Emmerich says these character beats are what separate White House Down from the typical action movie (or any other White House invasion movie, for that matter). "It has a very long first act," he says. "Which makes people very nervous. It's a strange thing. There's like this rule that the first act should only be half an hour. Tons of movies, very good movies, have first acts that are like 50 minutes. It doesn't matter how long it is. It has to establish everything the right way."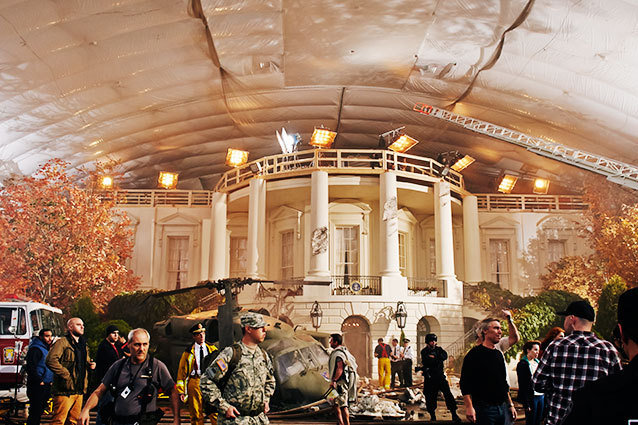 Writer James Vanderbilt thinks that care is what helped movies from the early '90s work. "Most of the '80s were Stallone and Schwarzenegger being totally indestructible," he says. "Then these characters came along who got the crap kicked out of them. The guy who can take a beating and keep coming back, that's what I like. Channing is all about that. He's all about 'beat me up as [much as] humanly possible.'"
White House Down is a movie built on passion. Vanderbilt loves the boiled down action concepts, gushing over the usual genre milestones along with Jean-Claude Van Damme's Bloodsport. When he started writing the movie, it poured out of him. A few visits to Whitehousemuseum.org, and he knew enough to spin the wild tale. He was able to let his imagination run wild.
"You can do close quarters gun stuff, but you can also do bigger stuff," Vanderbilt says. "There's a Black Hawk assault on the White House, or a tank shoots at the White House… I was able to access the side of my brain that was like a kid playing with G.I. Joes, and [ask] "what if?" Everything in the kitchen sink of 'what could we do to the White House?'"
The script had a miraculous evolution into the finished product. Emmerich says he pitched a similar concept 10 or 12 years ago that never went anywhere, so when Vanderbilt's movie hit his desk — after being recommended to him by the head of Sony — he knew it he had to make it. "Sold it Thursday, on Friday we got Roland, on Sunday we sat down with Roland and Harold at their house and they greenlit the movie," Vanderbilt explains. "That was four-and-a-half months ago. And now we're on the porch of the White House."
And we really were. The White House set was built in pieces, but the chunk we saw could be explored from the front entrance all the way to the back, with the ability to duck into the kitchen or presidential bedroom before going end to end. It was tangible, detailed, and ready to be destroyed. Kirk M. Petruccelli described his meticulous preparation for recreating the home, investigating wallpapers, rugs, and every nook and cranny to make it a 99% replica — a feat he doesn't believe has been matched on screen. The thought is that an action movie couldn't service that artistry, but Emmerich suggests he's approaching White House Down like he did Anonymous.
"[I'm shooting] the movie with a lot of wide angle lenses," he says. "Which is a cool thing. It will look like no other action movie you have seen. Everything looks beautiful. Even when it goes kaput." Sizing down the mayhem was a challenge for Emmerich, and one that demanded more than any of his past movies. Just in terms of stamina. "It is different, because my action was always on a grand scale," Emmerich says. "This is more 'real' action. Gun fights, people fight mano a mano. Totally different thing. I always try to stay away with it because it's the most tedious thing to do in a movie. It's fun in the first rehearsal, but after two days, even the actors who were excited, become slower! It's all these little pieces to make it look real. It takes a lot of time."
While the production value is high, don't expect Emmerich to play it safe. This isn't Russian Ark, and not everything is going to survive the twisted adventure Vanderbilt has crafted on the page. Judging from the hulking size of the recreated Cadillac One, an SUV limo that, upon further inspection, was built like a tank by Emmerich's automotive team, Tatum and Foxx will leave a few track marks (and worse) on the White House grounds before the credits roll. Emmerich says that his film is "very irreverent" when it comes to iconic patriotic imagery. "On one hand, you show it exactly how it is. Then you do action scenes in there with an ironic tint to it."
So Emmerich won't be blowing up the White House in White House Down. Instead, he's opted for a slow implosion. That's a new platform I can get behind.
Follow Matt Patches on Twitter @misterpatches
MORE:
Channing Tatum Needs a Director Who Knows 'How to Dress and Decorate Their House'
See the First Footage from 'White House Down'
Jimmy Kimmel Casts Channing Tatum in 'Movie: The Movie 2V'
---
From Our Partners:


Eva Longoria Bikinis on Spring Break (Celebuzz)


33 Child Stars: Where Are They Now? (Celebuzz)