'White House Down': How to Tell This Isn't 'Olympus Has Fallen' — TRAILER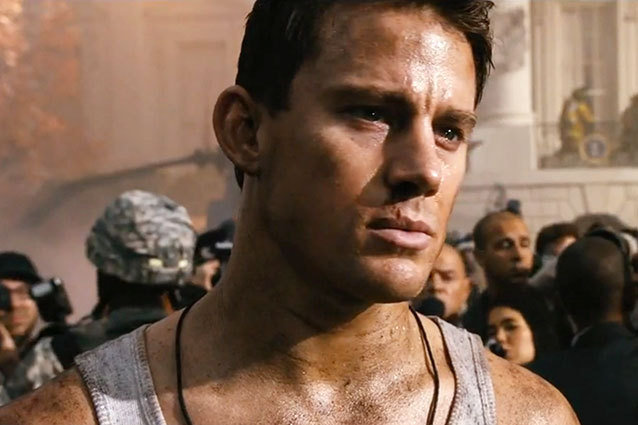 You've just returned home from an evening showing of Olympus Has Fallen, the political action-thriller that places Washington D.C. and its Commander-in-Chief at the center of an apocalyptic blitzkrieg, starring Gerard Butler as an agent charged with protecting POTUS Aaron Eckhart. You're gearing up for a long night of first-person shooters and Powerade, when you decide to jump on your Compaq desktop and check your Zoho Mail account. But what's this? You seemed to have stumbled upon a new trailer for Olympus Has Fallen… at least, it seems like Olympus Has Fallen — the White House is under attack, the president is in peril, a brawny white guy has vowed to save the day… but something seems different.
RELATED: 'Olympus Has Fallen' Is Gerard Butler at His Best, Gory Violence at Its Worst
What you've actually encountered is the new trailer for White House Down, an entirely separate political action-thriller that places Washington D.C. and its Commander-in-Chief at the center of an apocalyptic blitzkrieg, this one starring Channing Tatum as an agent charged with protecting POTUS Jamie Foxx. Don't be embarrassed, it happens to everyone. But we've got your back: While the two films are easy to confuse, we've highlighted the main differences to help you determine which movie you're actually watching. Check out the trailer, and then peruse our study guide to keep your Pennsylvania Avenue disaster movies in check.
1. The averaged age of the White House Down cast is substantially lower than that of the Olympus Has Fallen cast. President Jamie Foxx (45), Agent Channing Tatum (32), and Speaker Richard Jenkins (65) = 47.3; President Aaron Eckhart (45), Agent Gerard Butler (43), and Speaker Morgan Freeman (75) = 54.3. 
2. In fact, the whole feel of Olympus Has Fallen is older, classier, a bit more sophisticated. While the OHF trailer opens with the Pres and his top agent buttoning up for an elegant gala, the WHD trailer kicks off amid a found footage explosion riot. Found footage is all the rage these days, you know. And speaking of youth…
3. Shirtlessness. If you find yourself admiring the topography of a well-crafted torso, you're most likely watching White House Down. In this trailer alone, we see Tatum descend from formalwear to a bulletproof vest to a half-torn wifebeater. We imagine it doesn't stop there.
RELATED: We Have to Hack Into the Mainframe! — A Supercut
4. Then there's the bad guys. We've seen Olympus Has Fallen's attackers: a troupe of North Korean terrorists, White House Down's antagonists are thus far faceless. But a moreover monochromatic cast list alludes to a domestic, or at least European, team of force of evil. You might call that somewhat more modern thinking.
5. Finally: the speed the movie seems to propagate. Olympus paces itself between long-winded threats, Freeman diatribes, Butler musings (though does not spare us action sequences). But this new White House trailer cuts from split second to split second of buildings crumbling, government agents ducking into crawl spaces, jumps, jives, wails, and bombastic bouts of Tatumium.
All in all, White House Down is a younger, hipper man's Olympus Has Fallen. So if you liked the Butler pic, prove you're cool and check out Tatum's venture June 28.
Follow Michael Arbeiter on Twitter @MichaelArbeiter
[Photo Credit: Columbia Pictures]
---
You Might Also Like:


15 Oscar-Winning Nude Scenes


10 Insane 'Star Wars' Moments You Didn't Notice