Who Should Direct 'Dawn of the Planet of the Apes'?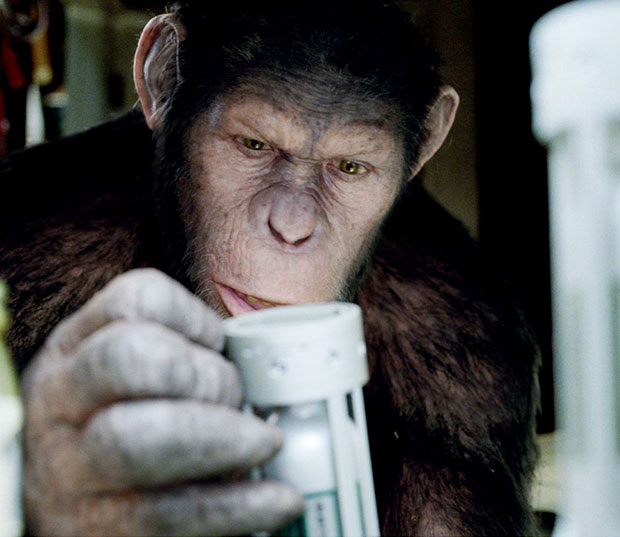 Rise of the Planet of the Apes was one of the big surprises of the 2011 summer season, a franchise reboot that was both creatively refreshing and lucrative for Fox, who produced the film. The blockbuster made a name for director Rupert Wyatt, whose previously films barely saw U.S. releases. Wyatt became hot property in Hollywood — perhaps too hot. Last week, he reportedly left his role as director of the proposed sequel Dawn of the Planet of the Apes.
With Rise being such a success, Dawn is a top priority for Fox, with a May 23, 2014 release date already set. Now the hunt is on for a replacement, and Deadline has learned who is contention for the massive task.
Cloverfield and Let Me In director Matt Reeves is reportedly at the top of the list. A J.J. Abrams confidant, Reeves has been attached to direct a big screen Twilight Zone movie (although rumors are circling that since the announcement, he's left the project, making him free for Rise). He's demonstrated wizardry with special effects and, like Wyatt, his work on smaller scale dramas like Let Me In shows off a side that can handle the surprising amour of drama now established in the Apes series.
The rest of the list is an interesting mix of fresh faces and known talent:
J Blakeson doesn't have too many credits to his name, but his stylish thriller The Disappearance Of Alice Creed impressed a lot of folks. Like Wyatt, he's untested, but perhaps sports a vision that sounds convincing to investors of this massive blockbuster.
Juan Carlos Fresnadillo's career has been relatively quiet since he defied expectations and crafted an excellent sequel with 28 Weeks Later. His Clive Owen horror flick Intruders barely opened last year, but this wouldn't be the first big budget project he's become attached to. Fresnadillo previously developed a film based on the popular video game Bioshock that fell apart when the R-rated tone didn't pair with the budget. He's also connected to a remake of Highlander, although if he nabs the Dawn gig, the tentpole's release date may take precedence.
One of the bigger surprises is Jeff Nichols, who has wowed indie audiences with Sundance winner Take Shelter and the upcoming Mud, which debuted at the 2012 Cannes Film Festival. Nichols has dabbled in special effects — Take Shelter featured some astounding apocalyptic imagery — but nothing on the level that Dawn would demand. But he's a character director, and that's exactly what made Rise of the Planet of the Apes so mesmerizing. With the right collaborators, Nichols could emerge as a major Hollywood player.
Guillermo del Toro knows big budget filmmaking. He's previously helmed both entries in the Hellboy series, was slated to direct The Hobbit (before some monetary shuffling left him anxious to move on), and he has the mind-blowing Robots vs. Monsters picture Pacific Rim in the can for Summer 2013. Del Toro could handle Dawn's demands — thing is, why would he? With so much on his plate and a brain overflowing with creative ideas, there isn't much of a reason for Del Toro to pick up someone else's franchise.
When I saw Juan Antonio Bayona's The Impossible at the Toronto Film Festival, I knew we had our next Spielbergian filmmaker. Bayona's first film The Orphanage (produced by fellow shortlister Guillermo del Toro) was moody horror movie that transcended most modern ghost stories. The Impossible solidified him as one to watch, the film balancing impressive special effects work with a riveting human story that never backs down. He would make a daring choice for Fox.
Deadline notes that Rian Johnson's reps deny that he's pursuing the job, but that doesn't mean Fox isn't looking into him as an option. Whether his new film Looper will be a financial success, it works on a storytelling level, incorporating heady sci-fi ideas into a slick action movie. With Looper, Brothers Bloom, and Brick, Johnson has dedicated himself to telling stories that are personal and crafted from his own imagination. Unless he needs the cred, he may be in the same position as Del Toro.
So I leave it up to you: who should direct Rise of the Planet of the Apes?
Who Should Direct 'Dawn of the Planet of the Apes'?
Follow Matt Patches on Twitter @misterpatches
[Photo Credit: 20th Century Fox]
More:
'Dawn of the Planet of the Apes,' an 'X-Men' Sequel and … 'ID4 3D'?!
The Wachowskis for 'Justice League'? They've Already Done It!