Who Will Make a Better Jimi Hendrix: Anthony Mackie or Andre 3000?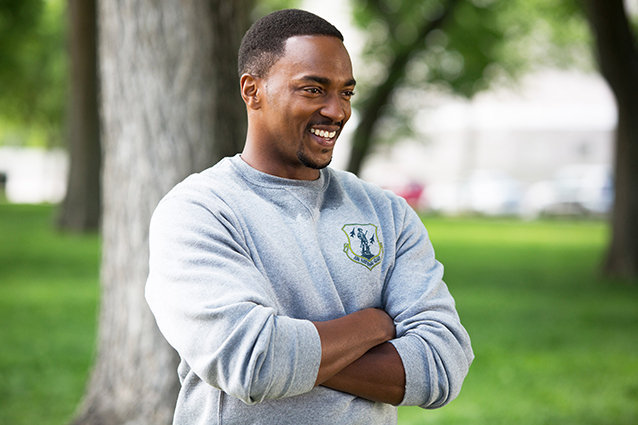 Walt Disney Co. via Everett Collection
We've somehow suffered 40 long years without a single big screen biopic chronicling the life of Jimi Hendrix, so it's only natural that the universe has decided to reward us with two. That's right, the life of the legendary guitar virtuoso is going to be chronicled in two very different films with very different actors in the central role. The first, All Is by My Side, features Outkast's Andre 3000 as Hendrix, while the other, simply titled Jimi, has just cast actor Anthony Mackie as the tragic artist. While both Anthony Mackie and Andre 3000 are both very talented individuals who each bring something unique to the table, we wonder which actor can bring more justice to the role. We've decided to compare the two performers over several categories to decide who will play the definitive version of Hendrix.
Acting Ability
Acting ability should really be the category that carries the most weight on this list. These are films, not tribute albums after all, and Makie has proven himself to be a fine dramatic actor over the years. Mackie even has biopic experience, fitting himself quite nicely into the role of Tupac Shakur in Notorious. Andre 3000, on the other hand, is a decent actor with a handful of supporting roles under his belt, but we haven't seen any evidence to show that he can carry a whole film by himself. This one goes to Mackie very easily. It also helps that Jimi Hendrix's vocals were never the biggest draw to his music anyway.
Advantage: Anthony Mackie
Musiciality
This one is no contest. Andre 3000 is an actual famous musician. He's one half of the hip-hop duo Outkast, who have been producing some of the most original and genre-bending hip hop for the past 20 years. Besides all that, the actor has actual on stage experience with the electric guitar, Jimi's instrument of choice. Three stacks would likely understand the creative process of being a musician more acutely than Mackie, even if he lacks the acting experience. Mackie could do his best to fake it, but Andre 3000's genuine passion for music would likely be more convincing.
Advantage: Andre 3000
Looks
From a height standpoint, it's a draw, with both men standing at 5'10" while the real-life Hendrix was 5'11", but the category slips into Andre's favor once you look at other physical characteristics. Andre has similar head shape and facial features to the late musician, and has even sports the same wiry afro Jimi frequently from time to time.  Andre 300 is also pretty slender, which is a match for the lanky rocker. Mackie, on the other hand, is quite muscular, and is likely still shedding some mass from his roles as a murderous body builder in Pain and Gain and a soldier in Captain America: The Winter Soldier to play the artist.
Advantage: Andre 3000
Personality
Hendrix is often described by those that knew him as a dreamer, a gentle free spirit who didn't take things to seriously. His personality fits right into the spacey vibes of his music. Similar things could be said about Andre 3000, who's often a bit soft-spoken in interviews. Conversely, Mackie is  full of loud, boisterous charisma that doesn't quite mesh with Hendrix's persona. Mackie is an actor that all, and he could tone down his personality for the role, but Andre's temperment is a more natural fit.
Advantage: Andre 3000