Why 'Bridesmaids' Should Be Called 'What Women Want'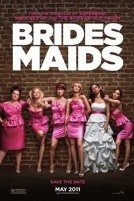 The mighty hammer of Thor may have topped the weekend box office for two consecutive weekends, but it's the bawdy, raunchy R-rated comedy Bridesmaids that has mid-week audiences coming back for more. Topping the chart for Monday with a Thor beating $2.9 million, the Brides ascended to the top of the chart after debuting at number two over the weekend with a much better-than-expected $26.2 million. Tuesday was even more impressive with $3.4 million for the day vs. Thor at $3.1 million and the film leads the Wednesday box office race with $2.9 million.
Opening weekend studio projections had the film expected to debut in the low teens, while most box office prognosticators pegged it to open with around $20 million. What nobody expected was a 35% Saturday uptick vs. the Friday opening day gross and a Sunday gross that came in about $1.7 million higher than the estimates. The final weekend figure of $26.2 million was over $10 million higher than the original studio expectations and reflected one thing: women want raunchy movies just as much as their male counterparts.  Many have called the film "The Hangover for women" and certainly female moviegoers played a major role in driving The Hangover to the status of highest grossing R-rated comedy of all-time.
Sure, women like romantic comedies, but they don't like films that pander to the studio-based ideal of the 30-something woman desperate for love and seeking redemption in the arms of an impossibly good looking man.  Producer Judd Apatow has a unique understanding of what women want and has delivered it with The 40 Year-Old Virgin and Knocked Up.  Even Superbad featured strong female characters that resonated with women young and old.
Bridesmaids is expected to have a minimal second weekend drop similar to the 27% drop that The Hangover enjoyed back in June of 2009 and earn around $20 million this weekend.  Of course there is the small matter of a big blockbuster called Pirates of the Caribbean: On Stranger Tides that will keep Bridesmaids a bridesmaid and not a bride once again at the weekend box office.