Why Will Smith Said No to 'Django Unchained'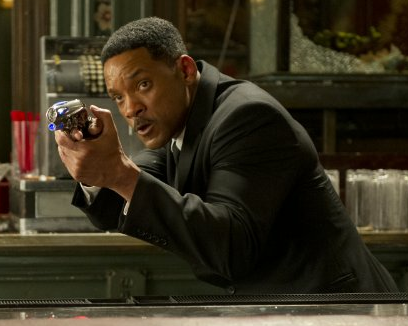 Can you imagine the Fresh Prince of Bel Air going up against Leonardo DiCaprio in a bloody Tarantino flick? Well, it almost happened, according to Mr. Will Smith himself. In an interview with Empire, Smith explained that Director Quentin Tarantino wrote the title role from Django Unchained for him, and was offered the part (informally) last spring. Turns out, it was the black suit and Noisy Cricket that kept him away from the role, as Men in Black 3 was filming at the same time.
"I came really close, it was one of the most amazing screenplays I had ever ever seen," Smith explained (making us all the more excited: Can you imagine how many people hound that man with scripts on a second-by-second basis?). "I was in the middle of Men In Black 3 and [Tarantino] was ready to go, and I just couldn't sit with him and get through the issues, so I didn't want to hold him up. That thing's going to be ridiculous. It is a genius screenplay."
Now, a few things. First of all, we're totally bummed that this couldn't work out because it would have been really, really great to see Smith take such a departure from his usual roles. (We are torn though, because Jamie Foxx looks fantastic in the trailer.)
Secondly, what "issues" could Smith have had with a screenplay that he called "genius"? Was there no place for a Jazzy Jeff and Smith-penned theme song?
Regardless, it's a shame that Smith couldn't take the chance, but it doesn't make us any less excited for what looks to be a supremely fantastic Tarantino film.
[Image Credit: Columbia Pictures]
Follow Alicia on Twitter @alicialutes
More:
Will Smith Talks 'Men in Black 3' — EXCLUSIVE VIDEO
Django Unchained' Trailer: How to Sell a Tarantino Movie
'Django Unchained': DiCaprio & Foxx, Badasses of the Old West — PICS