Wild Air Battles and Historical Drama in 'Red Tails' Trailer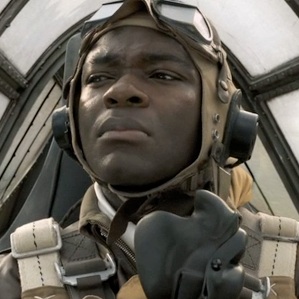 Star Wars writer/producer/director George Lucas has been working on bringing Red Tails, a WWII drama chronicling the ferocious aerial battles and racial tension faced by the Tuskegee Airman, for well over a decade. A project close to the blockbuster maven's heart, the movie never took off—until Lucas' finally set Anthony Hemingway, whose credits range from The Wire to Community to True Blood, to helm the action flick.
Hemingway shot the film back in 2008/2009, but word on the film's completion has been mum…until now. The first trailer for the film has debuted and the result is a mixed bag. Red Tails stars Terrence Howard, Cuba Gooding Jr., Bryan Cranston and a handful of up-and-comers, all walking the fine line between inspirational and hammy. One thing's definite: the lives of the Tuskegee Airman make for an incredible tale, but the trailer sticks to more to sentimental drama than the dangerous, heated environment you'd imagine from the scenario.
Nonetheless, the movie has plenty of potential—the air battles look dazzling enough to make up for any thin story arcs. The movie's currently set for January 20, 2012 and might be hiding plenty of surprises.