Bryan Cranston to Star in 'Trumbo,' But Will He Be Able to Escape the Walter White Character?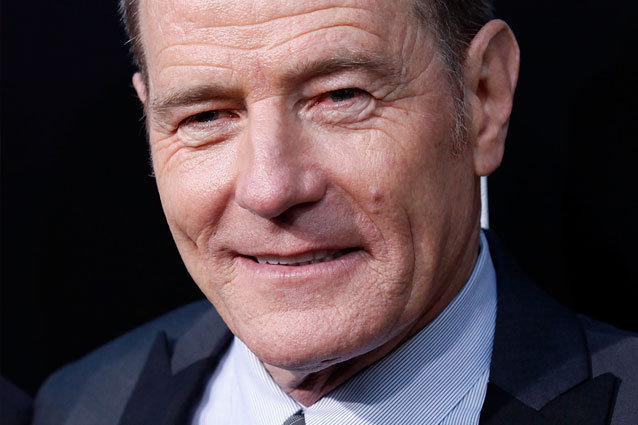 WENN
According to Deadline, Bryan Cranston will play the titular role in the Jay Roach-directed biopic Trumbo, an upcoming movie about Dalton Trumbo, a blacklisted screenwriter who famously won two Oscars under pseudonyms. Unfortunately for Cranston, his loyal Walter White fans might have trouble accepting him as anyone else other than the notorious chemistry teacher-turned-druglord in AMC's Breaking Bad. Once a meth lord, always a meth lord, amiright?
Now, there's no denying that Cranston is an impressive actor. He's proven himself time and time again, most recently (and most brilliantly) in Breaking Bad, but criticism will most likely still come from his diehard fans who only see Heisenberg when they look at him. It's not that they don't like Cranston, it's just that they've become more attached to the character he plays than to the actor who plays the character. George Costanza, oh wait, I mean Jason Alexander, knows better than anyone else what it feels like to be branded by your fans and by an iconic television character, and I'm sure Cranston is running away from that fate as fast as he can.
If Cranston wants to make sure he doesn't become another television casuality, and if he wants to take a stand and prove that he's made for both the small screen and the big screen, then he needs to officially bench Mr. White and give his other characters a chance to play in the game. Most importantly, his fans need to let him do that. Yes, the fans will always have something to say (what's new?), but what it will come down to is his ability to play the part of Trumbo (or any other character), because if he performs well, then even Walter White's fans won't be able to deny that he's more than just the unyeilding druglord.
So the question shouldn't be whether or not the fans will accept Cranston as another character, it should be wether or not he has the ability to extract his own identity from the tight grasp of Heisenberg. But if anyone's up for the challenge, it's Cranston.
Production for Trumbo won't start until 2014, but fans can keep on watching Cranston play Walter White until Breaking Bad's season finale on Sept. 29.
More:
Bryan Cranston Teases Final Episodes of 'Breaking Bad'
The Last 2 Episodes of 'Breaking Bad' Will Be 75 Minutes Long
In 'Cold Comes the Night,' Cranston Is Basically the Russian Heisenberg
Follow @hollywood_com  
Follow @CaseyRackham
---
From Our Partners:


A Complete History Of Twerking (1993-2013) (Vh1)


15 Stars Share Secrets of their Sex Lives (Celebuzz)