Will Ferrell Goes Nude: Plus, the 7 Funniest Naked Scenes Ever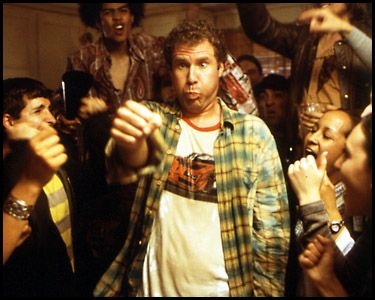 Recently nude photos of stars including Scarlett Johansson and Christina Hendricks were leaked online, but we doubt hackers are hunting through Will Ferrell's phone for shots of him in the buff. Ferrell has been shedding his clothing for laughs since his SNL days, so it's no surprise that his backside has a cameo in his upcoming film Casa de mi Padre. 
In an interview with Rolling Stone, Ferrell says of the upcoming telenovela parody, "I did full ass in Old School, but this is its longest appearance," adding, "Yes, someone had the either wonderful or horrible task of putting makeup on my ass." The funnyman explains, "This kind of thing is not a big deal to me. In college, they had this thing where you'd run naked on fraternity row, and if anyone challenged me, I'd be happy to do it." 
It seems Ferrell isn't alone. Plenty of stars are actually happy when the sight of their naked body makes people chuckle. Here are some of the best barely-clothed moments in comedies:
The Proposal (2009)
You've probably had nightmares about showing up to work naked. Ryan Reynolds shows us things could be even worse:  You could run into the boss you hate while you're both totally nude (and she probably doesn't look as good as Sandra Bullock). 
Old School (2003)
Streaking is a time-honored college tradition, but sadly (and hilariously) none of Will Ferrell's classmates follow his call to pantslessness when he shouts "We're going streaking!" at a house party. 
Forgetting Sarah Marshall (2008)
Jason Segel managed to make audiences crack up while simultaneously cementing his place as one of today's most lovable stars. It's hard not to feel bad for a guy who gets dumped while his gonzo is in full view.
Walk Hard:  The Dewey Cox Story (2007)
Since the title of this film contains not one, but two penis puns in the title, it's unsurprising that this John C. Reilly flick contains gratuitous dick jokes. In one notable scene an extra's nether regions are prominently displayed next to Dewey's head as he talks with his wife on the phone. 
The Hangover (2009)
Ken Jeong is one of the few actors who can say they rose to fame by springing from the trunk of a car while wielding a crowbar in a full-frontal nude scene. Actually, he's definitely the only star who can say that. 
Borat:  Cultural Learnings of America for Make Benefit of Glorious Nation of Kazakhstan (2006)
There's an important lesson to be learned from Borat's nude scene:  Before getting into a hotel room brawl with a hairy friend over your love of Pamela Anderson, be sure to slip on some boxers. 
Austin Powers:  International Man of Mystery (1997) 
There actually isn't any nudity in this scene from Austin Powers, but that's what makes it a classic. Elizabeth Hurley's breasts are concealed by melons, a spice rack, and milk jugs, while Austin prances across the screen holding a well-placed package.