How Will Forte Got Out of His Head to Tackle His First Drama, 'Run & Jump'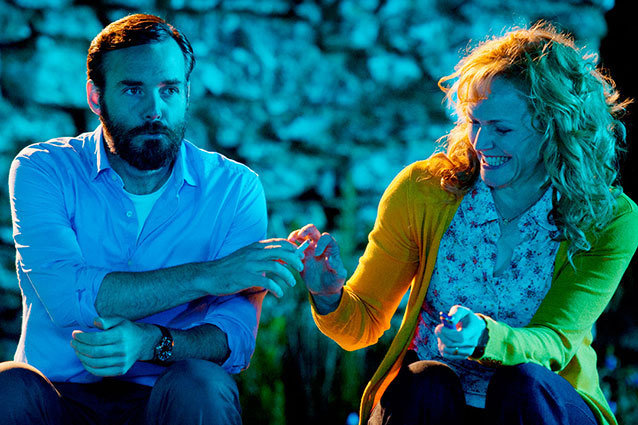 "I am so happy I didn't have to do an Irish accent," Will Forte says when describing the experience of migrating to Ireland to shoot his first dramatic role, Run & Jump. "I do the worst Irish accent. It's all based on the Lucky Charms commercials." He tries his hand at "purple horseshoes," and it dawns on him that it might be sub-cereal character level. "Actually, I can't even do the Lucky Charms accent."
Run & Jump makes its debut at the Tribeca Film Festival and pairs the former Saturday Night Live player with Maxine Peake, an English actress famous for her stage and TV work, including the UK version of Shameless. Peake stars as Vanetia, a vibrant Irish woman whose husband, Connor (Edward MacLiam), suffered a violent stroke that left him in a coma. After awakening and spending four months recovering, Vanetia brings him home — accompanied by Ted (Forte), an American psychologist who plans on studying Connor. Oscar-nominated director Steph Green captures the collision of new personalities and relationships with frankness, subtle camera work, and the popping colors of the Irish backdrop.
Green didn't ask Forte to attempt his Lucky Charms accent, but it was still demanding for the actor, who is better known for outlandish characters like MacGruber than for losing himself in understated realism.
"It was kind of terrifying for me, having never done anything like this," Forte says. He admits that he responded to the script but had no idea if he could pull off the "acting" required. "A lot of the stuff I've been involved in, you have to do a lot of big, broad characters. So my internal mechanism to figure out what real people act like is a little off. It's just different to be a real person."
Forte wasn't alone. When Peake got the call that Green wanted her for the film, she couldn't help but be a bit self-deprecating. For the actress, there became an obvious difference between her past work and Run & Jump. "Once Steph explains it, it's very minimal," she says. "'Stop crying.' There was a lot of that. I'm known in England for crying a lot, so I was out of my comfort zone. Will was out out of his comfort zone because he wasn't doing comedy and I was out my comfort zone because I wasn't allowed to cry."
Forte says moving to Ireland was a huge help in tackling dramatic work. "It really helped because it was this safe environment very far away from anyone I knew." Forte began his career as part of The Groundlings comedy troupe, going on to tackle behind-the-scenes roles writing comedy. He had to shake his writer's perspective when he was eventually given the opportunity to perform on camera. "When I got the chance to act, I would be thinking, 'Oh these guys who wrote this thing for me are disappointed.' I get into my head on that stuff." He jokes that moving away was vital for Run & Jump. "I cannot do domestic serious [laughs]. Everything was a new experience."
The duo rehearsed with Green for nearly a year and half, building back story that you only see traces of in the finished film. "My character was born in Ireland, went to England, and came back," Peake says. "That's all the backstory Steph and I did — and all the lines were cut in the edit … but it was about her sense of identity." The actual lines may not have made the film, but the characters in Run & Jump have a rare sense of age. They're lived in, having pasts that become clear by present interaction and Vanetia remembering a time that was.
"The trap you can fall into as an actor is feeling sorry for the actor instead of being true to the character's emotional life," Peake says. "I think that was a balance Steph told me. There was a scene where Ed's character walks past him and I'm having a couple of tea. And then I was [crying sounds]. And Steph says, 'Why are you doing that? Just sit and have a cup of tea.' Of course! She had such a vision of how someone would deal with grief."
According to Forte, the early days of rehearsals required a bit of hand-holding. But he worked with Green rigorously, turning the actual shoot into more of a fine-tuning process. A bit of facial hair only made him more confident. "For some reason, my acting changed with the beard. It was like a cloak. Like a safety blanket." In a way, it was like a totally different actor went and shot Run & Jump. An out-of-body experience. "I didn't do a bad job in that scene, that guy with the beard did a bad job in the scene!" Forte jokes.
Follow Matt Patches on Twitter @misterpatches
More:
Tribeca: Ben Stiller Divulges Career Secrets
Tribeca Film Festival 2013: 15 Movies to Have On Your Radar
Our Latest 'Saturday Night Live' Recap
---
From Our Partners:


Eva Longoria Bikinis on Spring Break (Celebuzz)


33 Child Stars: Where Are They Now? (Celebuzz)