Will Kevin Costner Succeed In His New Sports Role?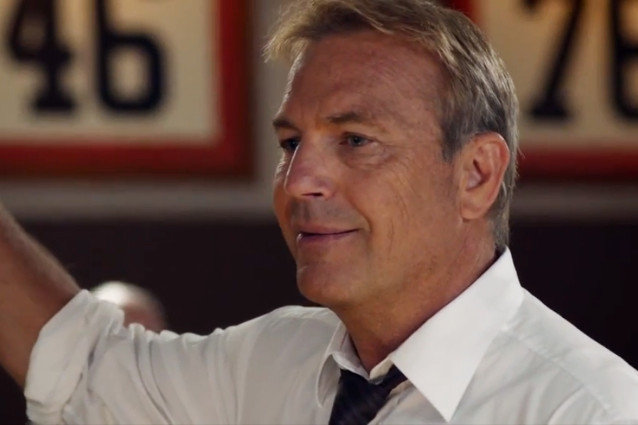 Fresh Movie Trailers/YouTube
Kevin Costner, the man who has played roles in baseball movies like Bull Durham, Field of Dreams, For Love of the Game and Tin Cup (Yes, golf is a sport) is now playing a different type of sports character – a front office man in Draft Day, which will be coming out in April. It's about time – though it will be interesting to see if he succeeds.
While I'm not saying Costner is old, he will be 60 in a little over a year,  and he is aging gracefully. Other actors, like Harrison Ford are doing it – Ford played Branch Rickey in 42 (then again, Ford is also appearing in The Expendables 3). Like many athletes, he is shifting from his playing days to management. It's like Crash Davis has moved into a front office position, except it's football. His character is determined to get the No. 1 pick in the NFL Draft, no matter what.
The ironic thing in all this is the choice of the franchise that Costner's character is in charge of: the Cleveland Browns. This has been one of the most downtrodden franchises of all time. Their fans have seen everything from Earnest Byner's Fumble to their owner Art Modell taking the franchise to Baltimore and then having to have the league award them an expansion team to be able to have football again. They have never won a Super Bowl and their team was particularly dreadful again in 2013 (in fact, they just fired their head coach after only one season in that position). So it seems almost cruel to have this larger than life character of Costner's take on the role of the team's general manager.
In fact, it's not just football that has left the city of Cleveland wanting – it's all sports. Their basketball team, the Cleveland Cavaliers were annual punching bags for Michael Jordan's Chicago Bulls in the 1980s and '90s (not going to go into that whole LeBron James and The Decision thing either – that would require about 5,000 words) and the Indians have not won a World Series since '48, a time that keeps receding further and further in time's rear view mirror. They don't even have an NHL team. So the citizens have had to turn to the theater to see their teams win in Major League and Major League II.
The movie itself should be great – Ivan Reitman is directing it and the rest of the cast is strong, with Jennifer Garner, Sam Elliott, Terry Crews (of course!), Denis Leary and Frank Langella also appearing. The problem is that Browns fans would likely expect that were Costner's character to get the pick, whoever he selected would probably get hit by a bus in the very next scene.
At least Costner didn't decide to play the general manager of the Chicago Cubs.