Will Smith Really Needs His New Movie 'Selling Time' to Be a Hit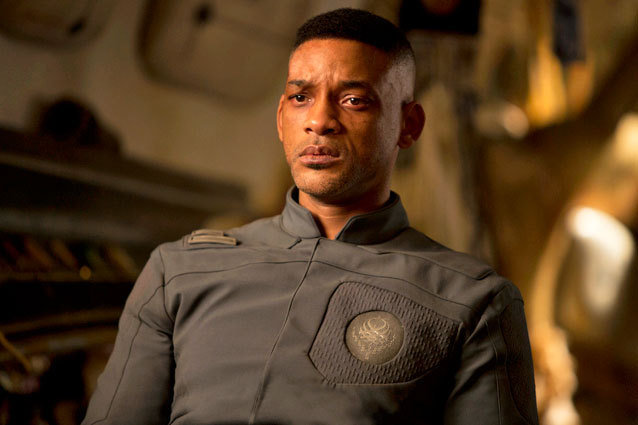 Columbia
He may not have confirmed anything about the Independence Day sequel, but Will Smith is attached to star in another upcoming sci-fi thriller, Selling Time. The story will center around a man, presumably Smith's character, who is offered the chance to relive and potentially change the worst day of his life in exchange for seven years off his life expectancy. The film doesn't have a director on board yet, although several big names are reportedly interested. The film has had a rocky history, and has been in pre-production for years now, with Spike Lee attached to direct at one point, and Smith even signing on and later dropping out due to schedule conflicts. 
The plot of Selling Time seems like it could result in either an exciting original film or one that's a retread of Seven Pounds set in a sci-fi universe. Unfortunately, the film's inability to hold onto a star or director doesn't bode well, which is a shame because Smith really needs a hit film. Despite being one of the most famous and well-liked movie stars in the world, Smith has found himself on a losing streak in recent years, and his films have stopped making the money they once did. His latest attempt at both a big-budget action film and a sci-fi thriller was After Earth, which was a critical and financial flop, and its failure is sure to make audiences skeptical about Smith starring in a similar project. 
Smith is at an interesting point in his career: he is still well-liked by audiences and is still viewed as a major box-office draw, even though his projects haven't been earning the numbers and reviews they once were. He's the rare actor who's proved himself to be capable of handling comedy, drama, and action, but he's found himself lately with a string of disappointing blockbusters and unnecessary sequels. With three more of the latter rumored to be on his plate — Hancock 2, Bad Boys 3, and Independence Day 2 — what Smith really needs is a film that can inarguably be declared a hit. It's possible that he'll be able to pull it off with one of his other upcoming projects, as they all have impressive casts and interesting plots, but he does have a history of signing onto projects that sound good and inevitably turn out to be terrible. 
Based on the little bit of information that's available about it, Selling Time has all of the elements that have made Smith's films a success in the past. If the film manages to find a balance of the action-packed movies that Smith made his name on with some of the dramatic, emotional performances from his Oscar nominated turns in Ali or The Pursuit of Happyness, it might just be enough to help turn Smith's luck around. After all, he can't coast by on Fresh Prince goodwill forever, no matter how many times he performs the theme song.