Will Tarantino Join 'The Shadow'?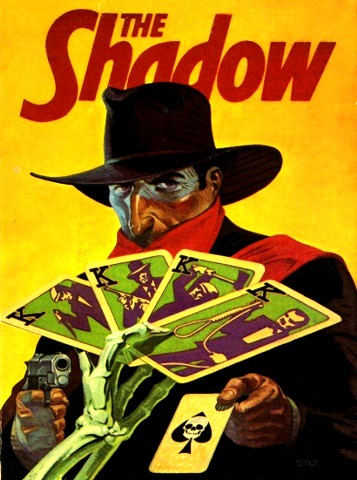 Who knows what evil lurks in the hearts of men? Well, Quentin Tarantino might. According to a source at Pajiba, the Inglorious Basterds director may be attached to take over as director on The Shadow, Fox's reboot of the pulp superhero franchise. This is all still very much a rumor, so keep your salt shakers close at hand.
The character The Shadow first appeared in pulp magazines, but gained fame and popularity as a radio drama starring Orson Welles. The radio drama is where it picked up its famed catchphrase, "Who knows what evil lurks in the hearts of men? The Shadow knows." Russell Mulcahy directed a film adaptation in 1994 with Alec Baldwin as the lead, but despite impressive video effects, the project bombed.
Earlier this year, Sony was reported to have sold their adaptation of The Shadow, with Sam Raimi attached, to Fox. Fox replaced Raimi with David Slade, of 30 Days Of Night and Twilight: Eclipse. Now the project seems to have passed on to Tarantino, who is being considered both to co-write and direct the film.
The Shadow is among dozens of superhero franchises facing resurrection on the big screen, but this project has more potential than most. While some companies have seen the superhero boom as an opportunity to churn out comics and license them for films before they even hit shelves (or have any chance to develop a fan base), The Shadow is an established, name character with a long history of ideas to pull from. Plus, he doesn't need to be shoehorned into any "darker and grittier" role, since he hails from the already dark and gritty world of pulp fiction. And speaking of Pulp Fiction (sorry), Tarantino's potential involvement is a promising sign for the project, since the director has shown a unique talent for reinterpreting genre fare. While this whole rumor needs more salt than a tub of movie theater popcorn, I'm keeping my fingers crossed that it ends up being true.