Will 'Tron' Give Industry a Box Office Gift?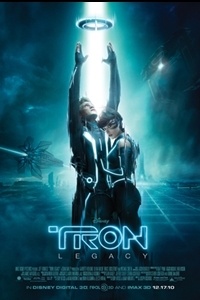 With the opening of Disney's Tron: Legacy in IMAX and 3-D this weekend and its expected blockbuster debut, we take a look back at the films that made December a month to remember at the movie theatre.  Lest anyone expect a $100 million opening weekend from this, the last month of the year, don't bet the Christmas presents on it since it has never happened!  That's not to say that December lacks bragging rights:  for the love of James Cameron the two top grossing films of all-time came from the twelfth month!  Not only that, Mr. July himself, Will Smith leads the opening weekend derby for December with 2007's I Am Legend which has managed to maintain its top dog status even when challenged by Avatar which grossed a mere $185,840 less when it debuted last year. 
Now on to the December lopsided ratings game:  Twenty of the top thirty December openers are rated PG-13.  Yes you read that right.  Said another way, fully two-thirds of the top films in our survey are of this rating, including the top three films on the list.  This indicates that if you want your best chance at a hit-making debut in December, you might opt for this all-encompassing rating.  Notably, nine of the top thirty December openers are rated PG and only one film is rated R.  Of course there is no need to cry for the folks over at Disney and their PG-rated Tron: Legacy – they have a genuine chance to show those PG-13 weenies who's the boss this weekend as it makes its mark in the top 10 of the December openings chart.
HOLLYWOOD.COM BOX-OFFICE  – TOP DECEMBER OPENERS – GROSSES THROUGH DECEMBER 12, 2010                   
RANK       TITLE          DISTRIBUTOR       3-DAY OPENING    RELEASE DATE    RATING
1    I AM LEGEND    WARNER BROS.    $77,211,321             Fri, 12/14/07         PG-13
2    AVATAR            FOX                       $77,025,481             Fri, 12/18/09    PG-13
3    LORD OF THE RINGS: THE RETURN OF THE KING    NEW LINE    $72,629,713    Wed, 12/17/03    PG-13
4    THE CHRONICLES OF NARNIA: THE LION,
      THE WITCH AND THE WARDROBE    BUENA VISTA    $65,556,312    Fri, 12/9/05    PG
5    SHERLOCK HOLMES    WARNER BROS.    $65,380,000    Fri, 12/25/09    PG-13
6    LORD OF THE RINGS: THE TWO TOWERS    NEW LINE    $62,007,528    Wed, 12/18/02    PG-13
7    KING KONG    UNIVERSAL    $50,130,145    Wed, 12/14/05    PG-13
8    ALVIN AND THE CHIPMUNKS: THE SQUEAKQUEL    FOX    $48,875,415    Wed, 12/23/09    PG
9    LORD OF THE RINGS, THE:
      THE FELLOWSHIP OF THE RING    NEW LINE    $47,211,490    Wed, 12/19/01    PG-13
10    MEET THE FOCKERS    UNIVERSAL    $46,120,980    Wed, 12/22/04    PG-13
11    NATIONAL TREASURE: BOOK OF SECRETS    DISNEY    $44,783,772    Fri, 12/21/07    PG
12    ALVIN AND THE CHIPMUNKS    FOX    $44,307,417    Fri, 12/14/07    PG
13    OCEAN'S TWELVE    WARNER BROS.    $39,153,380    Fri, 12/10/04    PG-13
14    OCEAN'S 11    WARNER BROS.    $38,107,822    Fri, 12/7/01    PG-13
15    MARLEY AND ME    FOX    $36,357,586    Thu, 12/25/08    PG
16    WHAT WOMEN WANT    PARAMOUNT    $33,614,543    Fri, 12/15/00    PG-13
17    SCREAM 2    MIRAMAX/DIMENSION    $32,926,342    Fri, 12/12/97    R
18    DAY THE EARTH STOOD STILL, THE    FOX    $30,480,153    Fri, 12/12/08    PG-13
19    NIGHT AT THE MUSEUM    FOX    $30,433,781    Fri, 12/22/06    PG
20    CATCH ME IF YOU CAN    DREAMWORKS    $30,082,000    Wed, 12/25/02    PG-13
21    LEMONY SNICKETS: A SERIES OF
        UNFORTUNATE EVENTS    PARAMOUNT    $30,061,756    Fri, 12/17/04    PG
22    CAST AWAY    FOX    $28,883,406    Fri, 12/22/00    PG-13
23    TITANIC      PARAMOUNT    $28,638,131    Fri, 12/19/97    PG-13
24    CHEAPER BY THE DOZEN    FOX      $27,557,647    Thu, 12/25/03    PG
25    BEDTIME STORIES    DISNEY    $27,450,296    Thu, 12/25/08    PG
26    CURIOUS CASE OF BENJAMIN BUTTON, THE     PARAMOUNT    $26,853,816    Thu, 12/25/08    PG-13
27    PURSUIT OF HAPPYNESS, THE    SONY    $26,541,709    Fri, 12/15/06    PG-13
28    GOLDEN COMPASS, THE    NEW LINE    $25,783,232    Fri, 12/7/07    PG-13
29    PATCH ADAMS    UNIVERSAL    $25,262,280    Fri, 12/25/98    PG-13
30    TOMORROW NEVER DIES     MGM    $25,143,007    Fri, 12/19/97    PG-13