Will Universal Take The Rights To 'The Terminator'?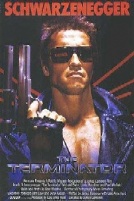 The fight for the future has been on hiatus since the rights to the beloved Terminator franchise landed in the hands of the hedge fund Pacificor, leaving Skynet without a studio to back its production of new T-800s. Virtually every conglomerate would want a piece of Cyberdyne, but now it appears that Universal is seriously considering taking over the property as original star Arnold Schwarzenegger is ready to return to film.
Deadline reports that the studio is interested in putting two of its most dependable creative players – director Justin Lin and screenwriter Chris Morgan – together to work on the next installment of the series. While Lin has handled the last three entries in the Fast and the Furious franchise and Morgan has scripted this April's Fast Five in addition to Wanted and Keanu Reeves upcoming 47 Ronin for the studio, their presence doesn't inspire as much confidence as William Wisher's. Wisher was an uncredited writer on James Cameron's 1984 original and a co-writer of 1991's T2. He supposedly has written a 24-page treatment for the next film and a four-page concept outline for a sixth Terminator film, both of which follow the post-Judgment Day storyline that began in McG's middling 2009 entry Terminator Salvation. What has me excited about Wisher's take on the next chapters is that time travel will play a bigger role in the narrative arc and perhaps he'll finally have an answer to the age old question: Which came first, the chicken or the egg?
Of course, none of this is set in stone as there's a lot of deal making that will precede the purchase of the franchise rights, but Deadline's report hints at Schwarzenegger's eagerness to return to acting as the catalyst for this new development. I'd be excited to see the former Governator reprise his iconic role, but will the rest of the world buy it? Universal's decision may hinge on that question…
Source: Deadline