Willem Dafoe Talks 'Out of the Furnace' And the Types of Characters He Enjoys Playing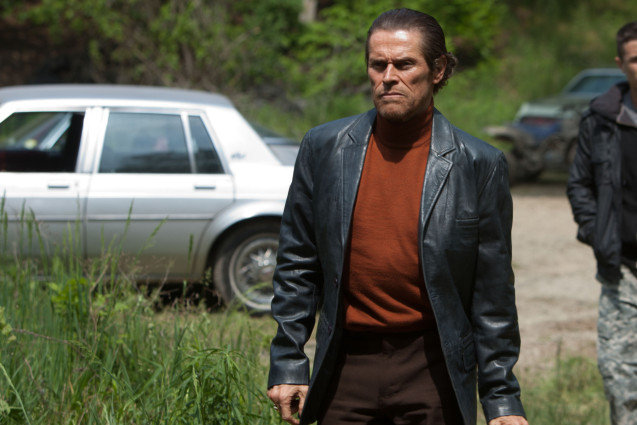 Relativity
Actor Willem Dafoe has made a career out of playing the kinds of sleazy characters you wouldn't want to meet in a back alley on the wrong night. In his latest film, Out of the Furnace, the actor uses his gifts to play John Petty, a bookie that takes Rodney Baze (Casey Affleck) under his wing and guides him through the world of underground street fighting. Dafoe plays a complex character that adds texture to Scott Cooper's portrait of a dying town trying it's best to stay above water when everything feels like it's sinking. We sat down with Dafoe to talk about his role in Out of the Furnace, what it's like working with Scott Cooper, and why playing sleazy is completely worth it dramatically.
 What drew you to this particular story?
I'm always very much keyed into directors. After I saw Crazy Heart, I met with Scott (Cooper) and we talked about working together and he called me up and sent me a script. By that time there were some actors attached and I liked the people attached. It really defined what he was going to do with the story. The script was strong and the character is interesting because he's a conflicted character as well. He's a bookie but he's also got kind of a sweet side where he's kind of paternal with the Baze brothers and I think it's an interesting conflict with an interesting resolution.
 You said Crazy Heart attracted you to the role. What was it like finally working with Cooper?
He's good, you know. He was an actor and he's very positive and confident. He's very passionate. He participated a lot in making this film happen and shaping it. It's got his fingerprints all over it. It's strongly his view and aesthetics. He was a strong personality on set and since he was an actor he has a special interest in performance that sometimes directors don't have.
Your character in the film is pretty sleazy. Do you find it enjoyable playing those sorts of people? 
I like playing characters that are on the margins of society because they have a different code and they see the world differently. I think it's sometimes interesting to adopt that point of view because it can kind of cleanse you from the lockstep of modern life. I like characters that have streaks of transgression or conflict or perversity and that's because I think sometimes it's an interesting perspective to adopt.
This film takes place in a depressed steel-mill town. Are you familiar with this sort of area?
I knew Pittsburgh and Pittsburgh is an interesting place because it's not Detroit but it did take quite a hit. When the steel-mills went into decline, everything changed. That mirrors where I grew up. I grew up in a paper-mill town. It's not exactly the same, but I was a little bit familiar with this kind of city that had taken a hit with suburbanization and the economic downturn. So it loses population, and the people that stay are the people that can't get out, so then you have sort of a desperate situation where people have to choreograph new strategies to live, and they start to question the traditional beliefs that kept the community together before. I think all that is part of the story that Out of the Furnace tells.
Some critics have said that this film is about the downfall of the American Dream. Do you agree with that?
A little bit, a little bit because you have Russell, who's the older brother played by Christian Bale, who is kind of sticking to his guns. He's had a little trouble in the past and he can't make it so he's going to go out like his father went out, and it's not a very pleasant way because he's on his way out with bad health problems that are partly due to his work. Then we see his brother come back after vaguely fighting for our security and our values, and he comes back and there's no place for him here. That's a common predicament and it is an indictment of how, for some people, the American dream is it's vice. So, that's all in the mix. I can't think of too many dramatic films about blue collar people that have a slight whiff of politics recently, so I think there's something attractive about that. The film has its Hollywood elements and it's elevated a little by dramatic things like bare-knuckle fighting and the revenge aspect, those are Hollywood devices, but still I think what's most important about the film is that it's a little bit of a meditation on family, community, and conscience, and all these moral issues that people deal with when they're scrambling when a downturn happens, and the way they used to live has to be re-examined because things have changed.