Win a Signed 'Dinner for Schmucks' Poster
Win a Signed 'Dinner for Schmucks' Poster!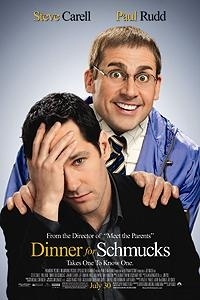 Dinner for Schmucks opens in theaters this Friday and frankly, what's not to be excited about? Paul Rudd? Good. Steve Carell? Good. Dinner and schmucky jackassery? We're all over it.
We also think that you'd like to get your hands on some schmucks (or maybe just Paul Rudd, you dirty bastard!), so we're giving away four signed Dinner for Schmucks posters, courtesy of the folks at Paramount Pictures.
The posters are signed by the stars and director of the film. They include:
Steve Carell, Paul Rudd, Bruce Greenwood, Ron Livingston, Larry Wilmore and Jay Roach
You want one?! You know you do and we've made it real easy to get one.
How to Enter
1. Become a Fan of Hollywood.com –
Go to our Facebeook page here and click the LIKE button at the top of our page.
2. "Like" our Post –  Go to our "Win a Signed Dinner for Schmucks Poster" post and click the LIKE button below it.
3. Cross your fingers – We'll pick four (4) random winners but you must be a fan of Hollywood.com on Facebook and you must have clicked "like" on the post there.
Note: Winners must have valid US address.
That's all there is to it! Now get to it and good luck!