Win a tote and wine set in our 'Adore' giveaway!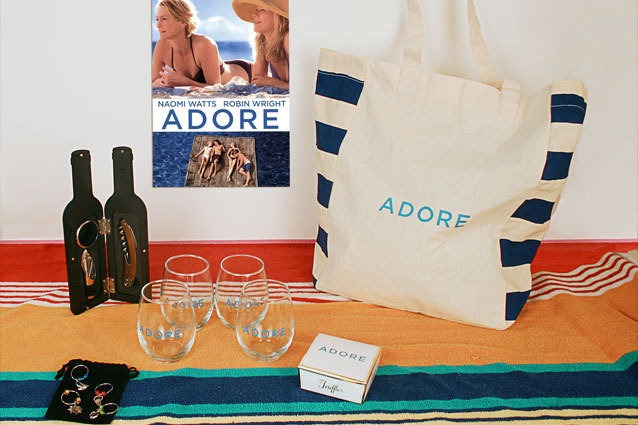 We love a great and risqué story– espeically when the story is told by the talented (and beautiful) actresses Naomi Watts and Robin Wright. Adore tells the story of childhood friends and neighbors (Watts and Wright) romantically falling for each other's sons. It's a twisted but fascinating story that you really can't tear your eyes away from.
We figure there's one truly ideal way to  induge in such a film…and that's with wine in hand, eating chocolate, and relaxing, of course. Which is why we're giving away an incredible Adore wine set!!
The set is pictured above and contains: (1) tote bag, (4) wine glasses, the DVD itself, (1) wine opener set, wine rings, and truffles. 
It's easy to enter this giveaway.. here's how:
1. Follow Hollywood.com on Twitter at @Hollywood_com starting Friday, September 6th.
2. RETWEET our tweet: "RT and FOLLOW to win an Adore tote and wine set in our #AdoreGiveaway http://bit.ly/17VIkvv"
We'll choose a winner at random and notify them on Monday September 9, 2013.
The contest runs from 12 PM ET Friday, Septemeber 6 until 11:59 p.m. ET on Monday, September 9. good luck!
Adore is out on Video on Demand TODAY! (9/6)