Win Tickets to See 'Promised Land' and a Q&A With Matt Damon!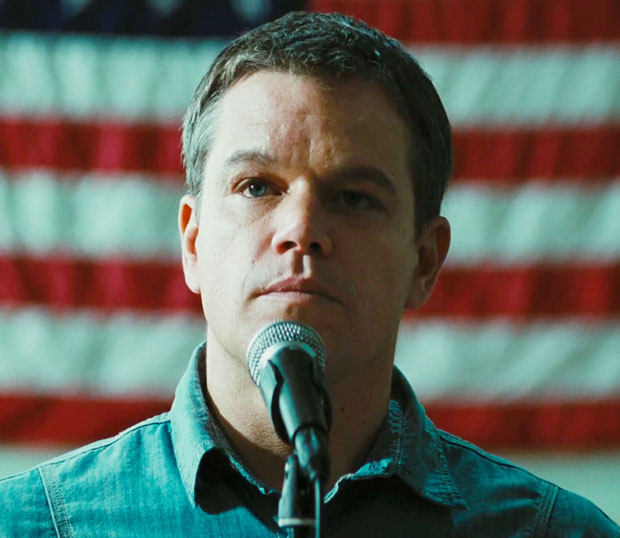 We told you to keep an eye out for details on how to win the opportunity to attend the 10th annual Variety Screening Series showing of Matt Damon's Promised Land, and we're here to deliver! Since Hollywood.com is a sponsor of this year's series, we are giving you the chance to win 2 tickets to the Promised Land screening in New York on Dec. 3 and in Los Angeles on Dec. 10. The movie screening is followed by an exclusive, intimate Q&A session with Damon.
The Variety Screening Series is usually only open to awards show voters and VIP guests within the entertainment industry. They're very private events, but this year we're offering our readers the chance to get in on the exclusive action. Now is your opportunity to rub shoulders with some of Hollywood's biggest stars and minds!
To earn your shot at the prize and nab a pair of tickets in your market, follow these steps in order:
1. Follow Hollywood.com on Twitter @Hollywood_com.
2. Tweet us the phrase "I'd love to attend the Variety Screening Series showing of #PromisedLand and Q&A with Matt Damon" and use one of the following hashtags,based on what market you are in: #HWPromisedLandLA if you want to enter to win two tickets to the LA screening and if you want to enter in NYC, use #HWPromisedLandNYC.
3. We'll choose a winner in each market at random and notify them on Friday, Nov. 16.
The contest runs from 10 a.m. ET/PT Wednesday, Nov. 14 until 11:59 p.m. ET/PT on Thursday, Nov. 15. Check out the .
(c)Severability; Headings:If any provision of these Official Rules isfound to be unlawful, void, or for any reason unenforceable, then thatprovision shall be deemed severable from these Official Rules and shall notaffect the validity and enforceability of any remaining provisions.Headings and captions are used in theseOfficial Rules solely for convenience of reference, and shall not be deemed toaffect in any manner the meaning or intent of these Official Rules or anyprovision hereof.
(d)Winner: For a list of winners, send a self-addressed stampedenvelope after __11/17/12____ to: Winners List, "_Variety Screening SeriesTicket Giveaway" Sweepstakes, Hollywood.com, Inc., 2255 Glades Road, Suite221A, Boca Raton, Florida 33431. Requests for Winners List must be received by __11/22/12____.WA and VT residents may omit return postage.
(e)Rules Requests: To receive acopy of these complete rules, send a self-addressed, stamped envelope to:Official Rules, "_Variety Screening Series Ticket Giveaway _" Sweepstakes,Hollywood.com, Inc., 2255 Glades Road, Suite 221A, Boca Raton, Florida 33431.Requests for Official Rules must be received by __11/22/12___. WA and VTresidents may omit return postage.