Win Two Tickets to 'The Hunger Games' Premiere in Los Angeles!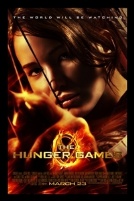 Is there a more anticipated spring film than The Hunger Games? I seriously doubt it. Suzanne Collins' literary phenomenon has become one the most treasured properties in the world, with fans around the globe ravenously gobbling up every bit of info about the four-book series and upcoming film franchise they can. But even though you can watch the trailer, view stills and read reports about the movie and its cast online, there's one thing that the internet hasn't been able to do for Hunger Games fans: get them to the premiere. That is, until now!
That's right: we're giving away two (2) tickets to the World Premiere of The Hunger Games in Los Angeles at Nokia Live on March 12*! And the best part is that winning the tickets is as simple as:
2. Sharing our wall post corresponding to this giveaway with your friends
3. Leaving us a comment in the corresponding wall post telling us what district YOU belong to.
That's it! We'll choose one (1) winner at random on Wednesday, February 8 and contact them via Facebook in the same wall post. Please note that winner MUST reside in the continental Unites States.
Now take to Facebook to win your tickets to The Hunger Games premiere, and may the odds be ever in your favor…
* Please note that Hollywood.com LLC, nor Lionsgate Entertainment will provide transportation/air-fare to the Los Angeles premiere of The Hunger Games. Tickets will be available for pick up at Will Call. Winner will be responsible for their own transportation to and from the event entirely.